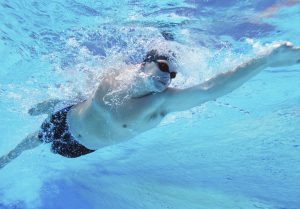 A lap pool — a dream addition to any home. Even if you have a smaller backyard, a lap pool can serve a great purpose as an incredible addition to your home. With its sleek shape and smaller size, lap pools can be the best way for homeowners with smaller backyards to get a pool feature in their humble abode. Here are just a few simple reasons you should absolutely consider a lap pool for your home.
But First, What Exactly Is A Lap Pool?
Lap pools — just like they sound — are pools that are designed for long, narrow spaces to make swimming laps very easy. Swimming laps is an excellent way to boost your fitness but that doesn't necessarily mean that people can't incorporate a lap pool in their home without wanting to swim laps. You can still enjoy all the perks of a traditional pool with a lap pool without taking up all that space. 
The Perks Of A Lap Pool
There truly are a ton of benefits that come with a lap pool. For one thing, space is a huge perk. The reality is, lap pools are ideal for spaces that are very long and narrow. Secondly, lap pools tend to provide significant privacy for homeowners — people are able to work out by swimming laps in the privacy of their backyards. Beyond just simple aesthetics — which lap pools also provide, they are notorious for their low maintenance. Since lap pools measure a third of the size of a regular pool, they are uniquely designed to be low maintenance pools. 
Bottom Line
At the end of the day, an inground lap pool is a great addition to your backyard. If you are worried about any lack of space that you may have, installing a lap pool could be a great way to incorporate a pool feature in your home without taking up too much space. Therefore, installing a lap pool is a wonderful way to ensure everyone in the house has a way to have fun and enjoy some water in the privacy and comfort of your own home. 
Questions? Ask Sunrise Premiere Pool Builders LLC
If you still have questions about how to build a brand new swimming pool, Sunrise Premiere Pool Builders LLC is here to help you. We here at Sunrise Premiere Pool Builders LLC can build and install your pool or spa and also provide you with pool chemicals, services, and more. If you have questions, feel free to give us a call at 410-349-3852. To see more from us and for tips and tricks, be sure to follow us on Facebook, Twitter, Pinterest, and LinkedIn.