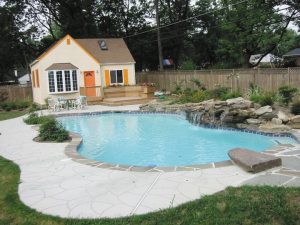 Even experienced pool owners might not know how to make the most of their pools. To be perfectly honest, that's okay! There is always room for improvement and learning more about backyard pools; that's what we're here for. Making your pool more energy-efficient helps you save money and power, and more importantly, reduces your impact on the environment. 
Reasons to Go Energy-Efficient
There are three great reasons to consider going energy-efficient. First of all, it can reduce pool maintenance costs. Second, you can reduce energy waste and also conserve water. Finally, you get tax incentives and rebates – which means more money for upgrades, accessories, and pool toys! 
Prevent Pool Water Evaporation
The sun can make water evaporate. It's just a fact of science. However, you can fight back in the name of energy efficiency. Unfortunately, this fact affects both indoor and outdoor pools; outdoor pools are more vulnerable to this effect than their counterparts. You might see the water level going down – well, it's not your imagination, because you lose an inch to an inch and a half of water every week. 
Use More Efficient Pumps, Heaters, and Filters
A variable speed pool pump sounds unnecessary, but you might find that it helps make your pools more efficient. This machine helps by slowing down the pump speed of the motor. it makes less noise, too, which can be a bonus for pool owners who want their oasis to be tranquil and not another cacophonous echo chamber.  
Add Windbreaks
Getting into the pool on a scorching hot day is a lovely way to get cool. Sometimes, the wind will not agree. That's why it's important to get some windbreaks. Walls, screens, fences, and even landscaping can all help in this regard. Even a fence with plant coverage on it can help – plus, it'll boost your curb appeal! Impress your friends and neighbors and help hide unsightly features of the area around your pool!
Invest in Solar Tech  
Make the sun work for you. Solar heaters and solar blankets keep your pool warm by using converting sunlight into energy. You can keep your pool warm during the day and at night. Although, given that we are in the summertime, a pool of cool water is probably going to be the most refreshing. 
Questions? Ask Sunrise Premiere Pool Builders LLC
If you still have questions about how to build a brand new swimming pool, Sunrise Premiere Pool Builders LLC is here to help you. We here at Sunrise Premiere Pool Builders LLC can build and install your pool or spa and also provide you with pool chemicals, services, and more. If you have questions, feel free to give us a call at 410-349-3852. To see more from us and for tips and tricks, be sure to follow us on Facebook, Twitter, Pinterest, and LinkedIn.