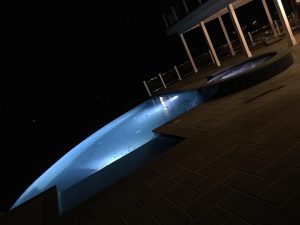 Your backyard should feel like an extension of your home. That's why outdoor living features such as kitchens, gazebos, and yes, swimming pools are becoming so popular. Did you know you can add fire features to your pool? Let's learn some more about them! 
Fire Bowls 
Fire bowls are a striking feature and can take your poolside haven to the next level. Staring into the flames can be soothing and they are a cool light source for the nights you don't want to use electric lights after dark. 
Fire and Water Bowls 
A sense of balance and tranquility can make the area around your poolside more relaxing. That's why it's a great place to assemble fire and water bowls. It's a cool feature that your neighbors might not have, and you can inspire them to add these fire features to their own pools. 
Fire Pits 
Fire pits are an affordable option when you want a fire feature but you're on a tight budget. They also add to the ambiance around your pool, since it imbues a touch of classiness. You can choose what size they are, along with whether they operate on gas or are wood-burning. Some examples of materials used to build a fire pit include brick, steel, and concrete. 
Fireplaces 
Having a fireplace near your pool turns it into a conversation-starter. It has a tremendous ability to tie your home's interior and exterior features together as well. Put one on the edge of the patio by the swimming pool deck. There, it can project light and warmth on summer evenings that start to cool down after a hot day. 
Fire Feature Safety
As with any other time you are dealing with fire, fire safety is essential. Keep your fire features from turning into hazards by observing these common-sense tips: 
Watch the wind direction before you light your fire. 

Don't be tempted to use gasoline or lighter fluid; in most cases, propane gas is all you need. 

Don't wear any nylon or loose-fitting clothing when you go to light a fire feature. 

Pine and cedar can pop and eject sparks, so don't use them in your fire features. 

Keep all children and pets at least three feet away from the fire features.
Questions? Ask Sunrise Premiere Pool Builders LLC
If you still have questions about how to build a brand new swimming pool, Sunrise Premiere Pool Builders LLC is here to help you. We here at Sunrise Premiere Pool Builders LLC can build and install your pool or spa and also provide you with pool chemicals, services, and more. If you have questions, feel free to give us a call at 410-349-3852. To see more from us and for tips and tricks, be sure to follow us on Facebook, Twitter, Pinterest, and LinkedIn.