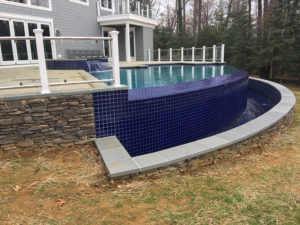 No matter what size or shape your swimming pool is, you will need a fence around it. This begs the question: what type of pool fencing should I get? For many first-time pool owners, that can be a confusing question with no right answer. Don't worry though – we've assembled this quick guide for you to consult! 
Think About the Cost 
How much money can you spend? Your budget is probably already stretched by the construction of the pool itself. The material of the fence you want influences how much it will cost. For example, many homeowners rely on wood for their pool fencing solution. This is because wood is inexpensive and good-looking. Tubular fences are another option for you to consider. In any case, be sure to have professionals install the fence for you. Still deciding which materials to use? You do have other choices, such as glass, vinyl, wrought iron, aluminum, and steel. Ultimately, it comes down to how much you can afford and the look you want to create. 
Consider the Color 
Once you have a material in mind, the next decision is to figure out what color you'd like to have. Aesthetics have a huge impact on the choices you make, and color goes a long way towards deciding what that is. Black and brown are two common color choices, but beige, green, and two-tone are also great ideas. In some cases, beige can be even better than black or brown, which are ordinary and might not be what you want, especially if your neighbors have black or brown pool fencing. Frames and borders on the fence will affect the color choice you make. Take the pool's design and the design of the yard around the pool into account. That way, you can match the fence's paint job to what is around it. 
Factor in Necessary Maintenance 
Don't overlook fence maintenance. You'll need to wash glass, metal, and vinyl to keep it looking clean and beautiful. Wooden fences will also need layers of stain and paint. Replacing the boards will also become necessary given enough time. However, if you choose tubular or brick fencing, it won't need that much maintenance. 
Questions? Ask Sunrise Premiere Pool Builders LLC
If you still have questions about how to build a brand new swimming pool, Sunrise Premiere Pool Builders LLC is here to help you. We here at Sunrise Premiere Pool Builders LLC can build and install your pool or spa and also provide you with pool chemicals, services, and more. If you have questions, feel free to give us a call at 410-349-3852. To see more from us and for tips and tricks, be sure to follow us on Facebook, Twitter, Pinterest, and LinkedIn.