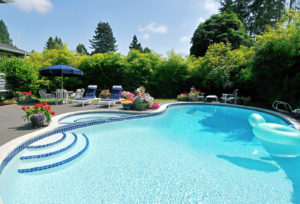 Swimming pools hold plenty of fun memories. However, it's not as enjoyable whenever something goes wrong. Suppose that you've noticed little cracks in your pool structure at some point. Since they were so small, you didn't really think that much of them at the time. Larger cracks present more complex problems to solve, though. So if you see any gaps in your pool steps, it's time to step up and get them fixed! 
First, Remove the Water 
Before beginning any type of pool maintenance, you need to make sure that it's dry. This advice goes double for the steps. So to that end, remove the water. Carefully drain the water so that the step in question is fully exposed. If you're wondering when the best time to do this is, it's when you plan on replacing the pool's liner as well. Don't completely empty the pool, though; doing so is a bad idea. The only exception is if you indeed intend to replace the liner. If you aren't, then proceed with caution. 
Second, Find the Crack 
After that, determine whether the crack is where you thought it was. Sometimes, previously repaired cracks need to be mended again. Cracks, fractures, and fissures are hard to walk on and even more dangerous to trip over as you move in and out of the water.
Third, Clean and Prep 
The time has come to clean and prepare your pool steps before patching them up. Start by drying off the suspect step with a towel or a hairdryer. Then, remove big chunks of debris using a scraper or a putty knife. Grind out the cracked area using a rotary stone bit. Once you've done that, pick up your 100-grit sandpaper. Sand the spot where you found the crack. You'll know you've succeeded when you see the fiberglass go dull. Also, where the fracture was should be nice and smooth again. Clean the steps again to get rid of dust, debris, or other particles that could affect your pool water's clarity and safety. While there is still more you can do that's a guide for another time!
Do You Have More Questions About Swimming Pools? Ask Sunrise Premiere Pool Builders LLC
If you still have questions about how to build a brand new swimming pool, Sunrise Premiere Pool Builders LLC is here to help you. We here at Sunrise Premiere Pool Builders LLC can build and install your pool or spa and also provide you with pool chemicals, services, and more. If you have questions, feel free to give us a call at 410-349-3852. To see more from us and for tips and tricks, be sure to follow us on Facebook, Twitter, Pinterest, and LinkedIn.