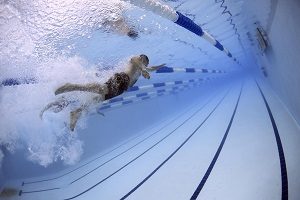 Planning to install a pool in your home? Has the COVID-19 pandemic limited your ability to exercise? With gyms and fitness centers closed or open with restrictions, there's a unique way to still get some good exercise in the comfort of your own home. Homeowners looking for a fun way to incorporate exercises throughout the day should turn to their swimming pool. In fact, if you are just looking to beef up your exercise burn these days, try swimming. Here are some key ways that swimming can ultimately help burn calories and get you the workout you're looking for. 
A Low-Impact Exercise
Looking for a small way to get your body moving? Swimming could be just the thing you're looking for. In fact, many popular forms of exercise like running tend to be really hard on your joints. However, swimming — a low impact exercise — is a great solution to those cumbersome problems. Swimming will burn those calories without putting any unnecessary pressure on your joints. Swimming is also an ideal exercise for people who are older, recovering from a nasty injury or people who suffer from arthritis. But, anyone can enjoy the benefits of swimming.
A Fantastic Whole-Body Exercise
When it comes to a full-body workout, swimming is a great one to try. In fact, while swimming is not necessarily the first thing that comes to mind when planning on getting a full-body workout, it burns the necessary calories and really allows you to get a nice workout in. 
Cardio And Strength Training
Swimming is an all in one exercise routine. It has the unique ability to combine cardio and strength — which is great for people looking to get a good caloric burn. In fact, swimming has the ability to strengthen your cardiovascular system which then helps people breathe a lot more efficiently. 
Bottom Line
At the end of the day, swimming is a great option for people looking to burn calories without undergoing a severe high-intensity exercise regime. Enjoying your swimming pool is easier than ever before and can ultimately provide you with a stronger cardiovascular system and allow you to burn fat as well. Getting fit while stuck at home during the COVID-19 pandemic becomes a major perk for people who have a swimming pool in their homes. 
Questions? Ask Sunrise Premiere Pool Builders LLC
If you still have questions about how to build a brand new swimming pool, Sunrise Premiere Pool Builders LLC is here to help you. We here at Sunrise Premiere Pool Builders LLC can build and install your pool or spa and also provide you with pool chemicals, services, and more. If you have questions, feel free to give us a call at 410-349-3852. To see more from us and for tips and tricks, be sure to follow us on Facebook, Twitter, Pinterest, and LinkedIn.