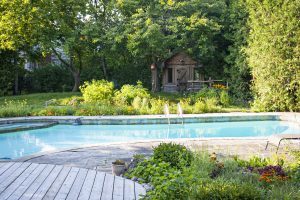 Having a pool in your backyard leads to hours and hours of exercise, relaxation, and a way to entertain. Getting some fresh air can't hurt either. If you are trying to begin a pool remodeling project, then here are a few things to know. 
Resurfacing the Pool 
One of the most common changes to occur during a pool remodeling process is the look of the surface. Depending on what finish you use, you will need to resurface the pool every 5-20 years. You've also got to take water chemistry into account. Please note that the shell of the pool remains unaffected by this; it only adds a new finish layer. The costs of this phase will be different for every project. The interior finish, size of the pool, and pool area are some of the considerations that will make a difference. The most common method used for this step involves old material being chipped out before a new layer is added and the entire pool is acid-washed for good measure.  
Adding Safety Measures 
Ladders, railings, and pool fences are all immensely important. If you didn't have them before, then there is no time like the present to add them. Pool safety nets and safety pool covers are also useful features for you to consider; this makes it so that your children can't fall into the pool. Also try adding a pool alarm that can be mounted on the gate or door leading to the pool itself. 
Enhancing the Aesthetic 
A major motivation behind any remodeling project is enhancing the aesthetics. Add a spa pool or hot tub! Streams, fountains, waterfalls, stones, plants, and fire features can all take your pool to the next level through the magic of a remodeling project as well. 
Upgrading the Lighting
Even though the days are longer in summertime, if you want to stay out after dark you're going to need a good set of lights. Don't hesitate to upgrade the outdoor lighting around your pool. Besides functioning as fantastic mood lighting, it also makes it easier to see when it's time to get out of the pool. 
Making It Lower-Maintenance
Many first-time pool owners are probably going to be flummoxed by the notion of how to take care of their pool. Luckily, a pool remodeling project can also make the entire structure much easier to maintain. Try converting to a saltwater pool, upgrade some existing equipment, or install an automatic cleaner that can clean the pool for you!
Design Style
The last item on our list is the concept of design style. Do you want to mimic a resort or take your backyard up a notch? That's the biggest question. Outdoor kitchens, swim-up bars, and tanning shelves are all luxury additions but can be well worth it.  
Questions? Ask Sunrise Premiere Pool Builders LLC
If you still have questions about how to build a brand new swimming pool, Sunrise Premiere Pool Builders LLC is here to help you. We here at Sunrise Premiere Pool Builders LLC can build and install your pool or spa and also provide you with pool chemicals, services, and more. If you have questions, feel free to give us a call at 410-349-3852. To see more from us and for tips and tricks, be sure to follow us on Facebook, Twitter, Pinterest, and LinkedIn.