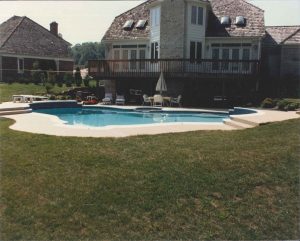 A new swimming pool is an exciting addition to any residential property. However, there is a great deal of responsibility that comes with it. Beyond the simple logistics of figuring out dimensions such as shape, size, and depth, you will also want to ensure that everyone exercises common sense pool safety. Part of that comes from the location of the pool. So here now is a guide to choose where you should place your pool.
Direction of Orientation
First off, you must decide on how to orient your pool. Which cardinal direction on the compass will it face? Make sure that your swimming pool gets as much sunlight as possible. This way, you can maintain comfortable temperatures and keep everyone in the pool even late into the night. If you're not sure how to do this, then just point your pool to the south or the west.
Distance From Trees
Secondly, consider the layout of your existing landscape. How many trees do you have surrounding your yard? Judge how close they are to the pool's proposed location. While it's certainly true that trees can provide your poolside area with shade, breeze, and aesthetic beauty, there are some issues to be aware of at the same time. Your pool water might get dirty faster thanks to debris such as leaves and loose branches falling in. Tree roots can also snake out underneath the ground and damage the foundations of the pool, which can cause havoc in ways you can't see, predict, or prevent.
Presence of Plants
You've also got to be cognizant of the plants in your garden. Depending on the pool's proximity to the garden where you are cultivating certain plants, you may want to rethink the layout of your backyard. Plants can bring problems associated with dirt and insect infestations, both of which can ruin your pool water. Talk to expert pool designers such as the team here at Sunrise Pools to find out which landscaping elements are appropriate for your poolside haven.
Additional Pool Accessories
What accessories do you intend to add to your pool? Two of the most common add-ons are waterslides and diving boards. But which one will fit without blocking out the sunlight? That is another question you must ask yourself.
Position Relative to House
You can't overlook the position of the pool relative to the main house, either. Your house can cast a shadow that can shade the pool as well. This is where you'll want to have a pool deck or patio built alongside where your pool is.
Questions? Ask Sunrise Premiere Pool Builders LLC
If you still have questions about how to build a brand new swimming pool, Sunrise Premiere Pool Builders LLC is here to help you. We here at Sunrise Premiere Pool Builders LLC can build and install your pool or spa and also provide you with pool chemicals, services, and more. If you have questions, feel free to give us a call at 410-349-3852. To see more from us and for tips and tricks, be sure to follow us on Facebook, Twitter, Pinterest, and LinkedIn.