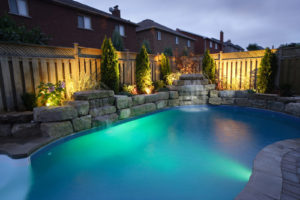 Having a swimming pool in the backyard is a status symbol, for sure. But that doesn't need to be a bad thing! An amazing swimming pool can turn your house into your neighborhood hangout spot! With summer basically in full swing, it's time for backyard barbecues again. There's no party like a pool party, so invest in these outstanding pool features to spruce up your swim time fun!
An Automated Cleaning System 
Never underestimate the effectiveness of an automatic cleaning system. That way, your pool can remain clear, clean, and beautiful with a minimum of effort on your part. The more often you use your pool, the more often you'll need to clean it. That's just a fact of life. Robotic pool cleaners make this task far less stressful and tedious, though. You can set them to run at specific times and intervals, and it won't get in the way of your fun in the sun!
Eye-Catching Lighting Features 
Extravagant lighting makes for some of the best-looking pool features you can find. Colorful lights and accent lights enhance the experience. Plus, they'll make it easier to see when you want to have a dip in the moonlight. Adorn the bottoms or the sides to add some visual flair that you might not otherwise have!
Automatic Pool Covers 
Summer rainstorms can be fun to dance in or fall asleep to as the sound of thunder booms overhead. But they're not so much fun when your swimming pool is their target. Some of the best pool features go beyond mere aesthetic value and have some practical aspects to them, too. In this case, you might want to research automatic pool covers. Decide which one is best for the type of pool you have – these additions keep trash, debris, and other disgusting things out of your brisk and crisp water!
The Soothing Power of Saltwater 
The salt found in saltwater pools is not the same as what you sprinkle on your fries. Salt chlorinators are excellent pool features because they keep the water clean. Plus, they function as water softeners as well – chlorine can trigger allergies for some people, especially in higher concentrations. When you switch to a salt-based pool cleanser, you can say goodbye to inflamed eyes, burning throats, and the strong, sharp smell of chlorine that can be highly unpleasant.
Adding Some Water Features 
Finally, consider using water features that your neighbors haven't already integrated into their pool designs. Some examples include bubblers, grottoes, and lazy rivers. Don't hesitate to make these changes, even if you think your current pool is too small!
Do You Have More Questions About Swimming Pools? Ask Sunrise Premiere Pool Builders LLC
If you still have questions about how to build a brand new swimming pool, Sunrise Premiere Pool Builders LLC is here to help you. At Sunrise Pools, we can build and install your pool, spa, or hot tub and provide you with pool chemicals, services, and more. If you have questions, feel free to give us a call at 410-349-3852. To see more from us and for tips and tricks, be sure to follow us on Facebook, Twitter, Pinterest, and LinkedIn.