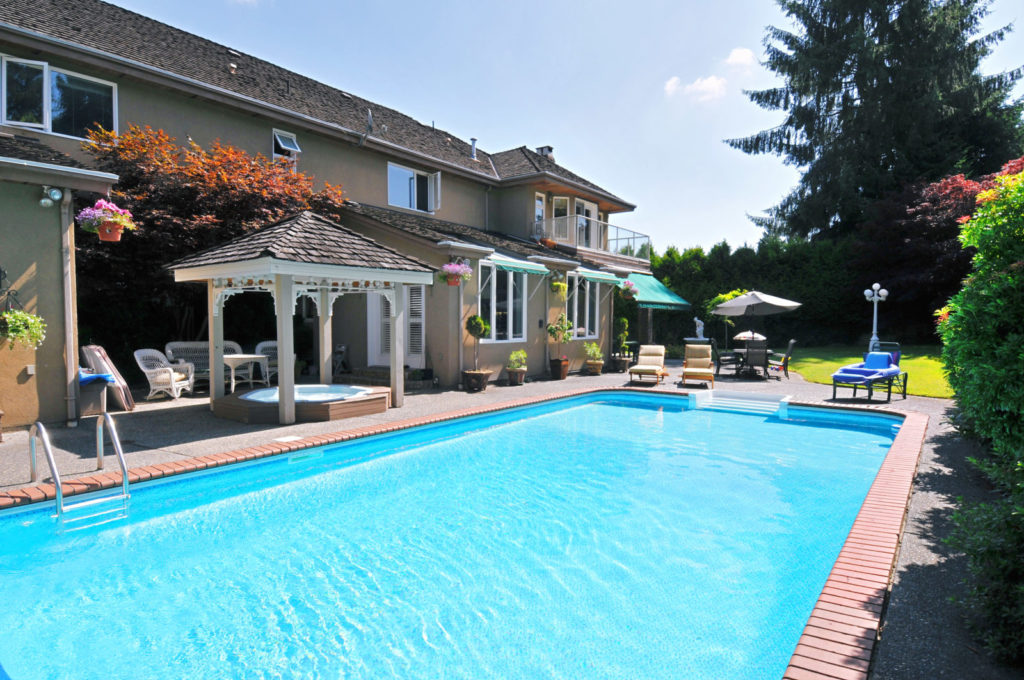 Hotter weather is coming. All the more reason to take a dip into your backyard pool! Summer will be here soon enough. If your outdoor pool isn't ready to go just yet, don't worry. We've got some exhilarating design tips that will help you make it a shady oasis amidst the heat and humidity. Don't get dragged down by how muggy it is outside! Here are some ways to make sure that your poolside area gets adequate shade from the sun. 
Shade Trees Provide Excellent Landscaping Possibilities 
This week isn't the first time we've discussed the value of beautiful landscaping. When you plant some shade trees, they'll give you an array of possibilities for protecting your pool from the blinding glare of the sunlight. Plus, they'll boost the amount of privacy around your home's backyard. 
However, the trees could take years to grow to the point where they can actually help. Likewise, you'll run into numerous pool care quandaries such as way too much shadiness, bird droppings, tree leaves, and errant nuts left behind by clumsy squirrels. Tree roots can weaken the stability of the pool's underlying structure as well. 
Put Up Some Colorful Umbrellas 
Alternatively, you could choose some umbrellas to brighten up your pool. They are simple, inexpensive solutions. Common options include free-standing umbrellas, offset umbrellas, in-pool umbrellas, and even umbrella sleeves.  
Save Money with Shade Sails 
Another affordable way to block out natural light is to deploy so-called "shade sails." They are elegant additions that you attach to strategically positioned poles. UV inhibitors lend further protection against harmful rays. Just be careful to have them anchored in place; they can be blown away by strong winds.
Cantilevers and Pergolas Can Help 
Raising a roof over your pool is another spectacular way to protect yourself during your days in the sun. That's where cantilevers and pergolas enter the picture. Of course, your budget could end up limiting your choices. All the same, canopies, awnings, and screen rooms are adjustable. A retractable roof is another amazing way to let more light in as you wish. 
Rethink Where the Pool Should Go 
Perhaps one of the most overlooked aspects of pool construction is so obvious that no one spends much time thinking about it. What do we mean? Pick out a good spot in your yard for where your swimming pool should be laid in the first place. Some crucial factors to keep in mind are sunlight angles, pool fences, landscape features, and hardscaping additions. 
Do You Have More Questions About Swimming Pools? Ask Sunrise Premiere Pool Builders LLC
If you still have questions about how to build a brand new swimming pool, Sunrise Premiere Pool Builders LLC is here to help you. At Sunrise Pools, we can build and install your pool, spa, or hot tub and provide you with pool chemicals, services, and more. If you have questions, feel free to give us a call at 410-349-3852. To see more from us and for tips and tricks, be sure to follow us on Facebook, Twitter, Pinterest, and LinkedIn.