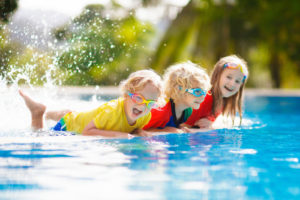 The beginning of June means that the school year is almost over. Once school is out for the summer, your kids are more than ready to jump into the pool and cool off. Whether this happens at your local community pool or at the one in your backyard, you need to be prepared for anything that could happen. Since the swimming season is finally here again, here's the big question: do your kids know how to swim? 
They'll Be Much Safer 
Whenever the swimming pool is in use, safety is #1. When your kids know how to swim properly, then they'll be much safer in the water. The lessons you give them (or have an instructor teach) will give them the skills they need to enjoy themselves and not feel anxious or scared when something happens. 
They Can Gain Confidence 
Confidence can help everyone feel better about themselves. For your children, building up this type of self-esteem is especially important. School life will be tough, and even if they are worried about being shy, awkward, or unathletic, swimming can be a great mood booster. As they gain control over their body movements in the water, they'll get more adventurous and curious about the limits of what else they can do. Increased awareness and body image will continue to benefit them even after they no longer go swimming as often as they did when they were younger. 
They're Going to Be Exercising 
Another great reason to enroll your child in regular swimming lessons is that they'll get more exercise. Science has shown how detrimental the sedentary lifestyle can be to everyone. Kids need to be active since they are active, energetic, and full of play. Swimming multiple laps will help strengthen their cardiovascular systems and their overall body strength. It's also far less likely that they will get injured. In other words, it's low impact, and that's good news for everyone! 
Swimming Helps Develop the Brain 
Here's something you may not know about swimming: it actually helps make the brain stronger. Such activity boosts motor skill development, body coordination, and a sense of balance. Preschoolers and toddlers, in particular, can benefit from regular swim-time because their brains and muscle memories are still forming. 
Most Importantly, Everyone Will Have Fun!
Having fun should always be at the top of the priority list. It helps everyone get through life a little more joyfully. Tricks, turns, and spins are among some of the awesome moves that your kids will be able to master – both safely and enthusiastically! 
Do You Have More Questions About Swimming Pools? Ask Sunrise Premiere Pool Builders LLC
If you still have questions about how to build a brand new swimming pool, Sunrise Premiere Pool Builders LLC is here to help you. At Sunrise Pools, we can build and install your pool, spa, or hot tub and provide you with pool chemicals, services, and more. If you have questions, feel free to give us a call at 410-349-3852. To see more from us and for tips and tricks, be sure to follow us on Facebook, Twitter, Pinterest, and LinkedIn.