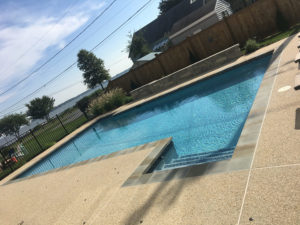 Building your dream pool is easier than you might think. Whether you intend it to be another hub of family fun or if you are looking to exercise more often, you can accomplish both goals with the same pool design. You've got plenty of options to choose from, so the time has come for you to narrow your choices down. Which ones will you select?
Steps and Ledges
If you have young children, then including learn-to-swim steps is a good idea. Including these steps is still a good idea for everyone, especially if some members of your family still aren't very good at swimming and time has gotten away from them. The steps are also a great alternative to ladders, which might be hard to access and climb. For pool owners looking to age in place or need to use a wheelchair, adding a ramp to the pool is also a good idea. Oh, and don't forget about sitting ledges! These ledges make it easier and more comfortable to climb in and out of the pool.
Paving Around the Sides
Paving around the sides of your dream pool is a worthwhile investment. Take the time to consider the paving on the deck. Spring is ending and technically speaking summer is about to begin with the Memorial Day holiday on deck. It's easy and affordable to add textured concrete, but this material can do more harm than good – injuring feet and leaving behind torn skin and sore toes.  
More Storage Potential
Chances are good that you don't want to leave your pool maintenance equipment lying out all the time. You probably also don't want to leave pool toys and swimming equipment in the water because it can disrupt the aesthetics of your dream pool. That's why increasing the storage potential is so important. This storage space makes for a convenient place to hide the pool cover when it's not in use.
How Deep the Water Is
Finally, don't forget to account for the water. After all, the water inside your dream pool is one of the most important parts of its overall design. Too shallow, and the pool won't be much fun. It's also just as unsafe as having water that is too deep. It all comes down to what the main usage of the pool will be!
Questions? Ask Sunrise Premiere Pool Builders LLC
If you still have questions about how to build a brand new swimming pool, Sunrise Premiere Pool Builders LLC is here to help you. We here at Sunrise Premiere Pool Builders LLC can build and install your pool or spa and also provide you with pool chemicals, services, and more. If you have questions, feel free to give us a call at 410-349-3852. To see more from us and for tips and tricks, be sure to follow us on Facebook, Twitter, Pinterest, and LinkedIn.