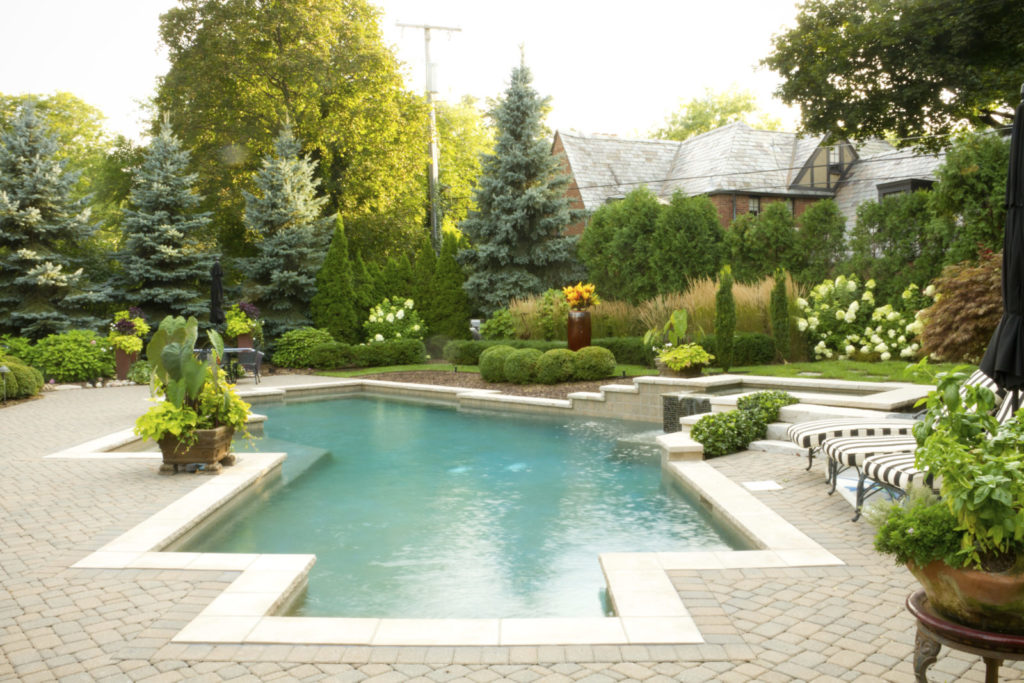 There's nothing quite like a beautiful spring day. Just think of it now: bright sunshine, tinkling wind chimes, and a small ripple on the surface of your pool water. Do you want to know a secret? Your fiberglass pool can add to the appeal of such a wonderful experience. All you've got to do is know how to manage the landscaping tasks involved with its upkeep. What do we mean by that? Sit back, relax, and let us explain!
Pave the Way
Every pool is different. That simple fact can't be disputed. Even so, there are some commonalities shared by the different types of backyard swimming pools. For instance, they'll need a sturdy pavement material. A feature called coping makes it easier to get in the pool when it's time to splash around and climb out when you've had enough for right now. The coping can extend into the deck or patio that you use to support the pool's weight. 
Put a Premium on Privacy 
Privacy is a big deal. Even in the quietest neighborhood, the neighbors who share your cul-de-sac could be looking for some inappropriate entertainment. That's why you should prioritize making your fiberglass pool's surroundings as private as possible. 
Leverage Your Landscape Features 
Perimeter fences present a dependable solution for protecting your fiberglass pool from intruders and wild animals. That said, you can use your existing landscape features (and ones you have yet to install) to your advantage! Higher trees and shrubs add another layer of privacy. They can also put up a sound barrier, shielding you from noisy neighbors or heavy traffic rumbling along the busy road outside of your subdivision.  
Cast More Shade Around the Poolside 
Partly sunny days might seem like optimal swimming weather. That could prove to be a mirage, especially when the glare levels and UV rays outside hurt your eyes. That's the biggest reason you should set up shade structures around the side of your fiberglass pool. Pergolas, shade sails, and retractable awnings are all top-of-the-line features that give you more value for money.
Experiment with Different Lighting Levels
Don't hesitate to play around with lighting levels. Adjusting the illumination during the day pays off after sunset. Mood lighting can make your next water-based workout feel more dramatic. Besides, it'll be easier to see as you walk back and forth – whether it's for another drink or to head inside for the evening!
Do You Have More Questions About Swimming Pools? Ask Sunrise Premiere Pool Builders LLC
If you still have questions about how to build a brand new swimming pool, Sunrise Premiere Pool Builders LLC is here to help you. At Sunrise Pools, we can build and install your pool, spa, or hot tub and provide you with pool chemicals, services, and more. If you have questions, feel free to give us a call at 410-349-3852. To see more from us and for tips and tricks, be sure to follow us on Facebook, Twitter, Pinterest, and LinkedIn.