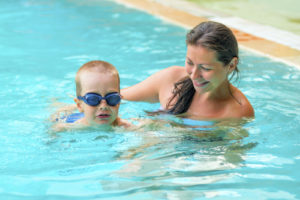 The time has come for you to consider making a big change: what to do next with your backyard. Chances are good that you aren't sure how to make the most of it even though you have plenty of space set aside for gardening or have designed a play area for your kids where they can run around and chase soccer balls or fire up their imagination in the sandbox behind your house. Well, one option you may not have considered before is buying a new swimming pool! But before it can be installed, you've got to approach such a massive project with a level head. Here's how.
The Type of Pool You Require 
First things first, you must decide which pool will best fit your needs. For instance, a pool that you just soak in while spending time with your family and pets is going to be much different than one where you exercise by swimming forty laps a day. You could also choose to install your new swimming pool for the aesthetic – or use it as a status symbol. In any case, make sure you have a defined purpose in mind before breaking ground.   
Potential Unknown Property Hazards
It's also a good idea to scan your property. This way, you can discover previously-unknown hazards such as voids, pitfalls, or utility lines that could interrupt the process of excavating soil for your new swimming pool. Trust us, you don't want that to happen – which is why using ground-penetrating radar, also known as GPR – is such a useful tactic when it comes to home improvements projects such as this.  
The Right Spot to Place It
Once you've cleared those initial hurdles, the next dilemma to overcome involves the placement of the pool itself. Building regulations, positioning requirements, soil consistency, and fencing guidelines will all influence where you can put your new swimming pool once it is ready to be added to your yard. Don't forget about other important factors such as watching your children as they splash around, how much sun and wind the pool will be exposed to, and where guests can come and go with some degree of comfort and privacy.  
Deciding Between In-Ground or Above-Ground 
In-ground pools become a permanent feature of your home's exterior. If you are ready for such a commitment, then this type of new swimming pool can be a tremendous asset to your home's curb appeal and resale value. However, excavating the soil is time-consuming and costly, and you might want to consider settling for an above-ground pool instead. Plus, if you end up moving, you can easily disassemble the above-ground pool and move it to your next home as well. 
Questions? Ask Sunrise Premiere Pool Builders LLC
If you still have questions about how to build a brand new swimming pool, Sunrise Premiere Pool Builders LLC is here to help you. We here at Sunrise Premiere Pool Builders LLC can build and install your pool or spa and also provide you with pool chemicals, services, and more. If you have questions, feel free to give us a call at 410-349-3852. To see more from us and for tips and tricks, be sure to follow us on Facebook, Twitter, Pinterest, and LinkedIn.