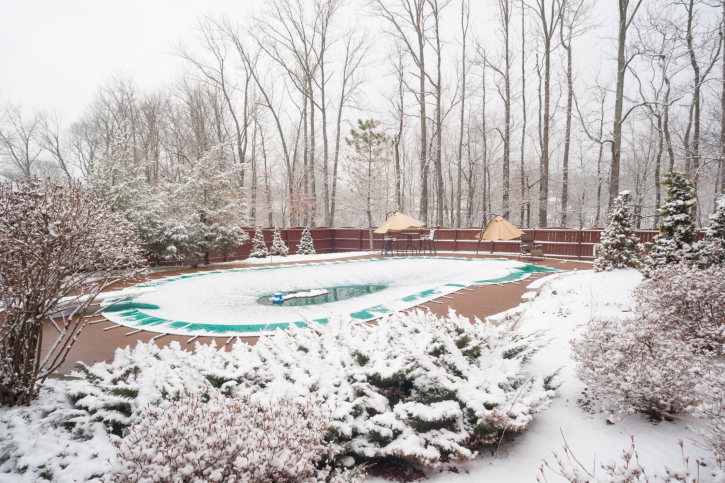 Christmas is coming! It is only about two weeks away now, at this point. While you might be sighing with relief, you'll probably also wish you could unwind in your swimming pool after a tough day at the office or the store. Yes, despite the situation we are all in, we still need to be able to work and get the groceries and things we need. Maybe one of those supplies has to do with pool care. Let's learn more about it! 
Make Sure the Pool Covers Are Okay 
A pool cover is tremendously important to the protection of your pool once the winter snows come howling into your backyard. A high-quality pool cover can keep the frost at bay. Even so, you can't let it suffer in silence. As unbelievable as it sounds, a mesh cover actually shields your pool better than you might assume. 
Be Sure That There is Enough Salt 
Yes, we know that this sounds like some odd advice. Specially formulated pool salt will do its part in the endless fight to keep your pool from freezing over – plus the cover pump can help you clean off the covers if you happen to have a saltwater pool or a heavily chlorinated pool. However, we must caution you against using ordinary salt that is used to treat slushy sidewalks, driveways, and roads. That's because they have additives in them that can do more damage to your pool than actually keeping it safe. 
Get It Cleaned Up 
Keeping every aspect of your home clean is an immense responsibility. That said, it can boost your mood, and more importantly, it can also count as a form of self-care. If you know that this time of year is already tough for you to traverse, then taking it easy on yourself is even more important than it is throughout the rest of the calendar. 
Switch Off the Heater 
Once again, we recognize that this will sound bizarre and borderline counterintuitive. Even so, switching off the pool heater is another integral part of proper pool care. The heat can affect the integrity of the cover and also cause your electric and heating bills to rapidly increase especially if you tend to leave them on all year even when they are no longer necessary. 
Questions? Ask Sunrise Premiere Pool Builders LLC
If you still have questions about how to build a brand new swimming pool, Sunrise Premiere Pool Builders LLC is here to help you. We here at Sunrise Premiere Pool Builders LLC can build and install your pool or spa and also provide you with pool chemicals, services, and more. If you have questions, feel free to give us a call at 410-349-3852. To see more from us and for tips and tricks, be sure to follow us on Facebook, Twitter, Pinterest, and LinkedIn.