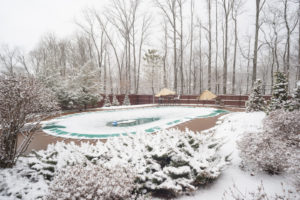 The time has come to close down your backyard swimming pool. As much as you'd like the fun to last, the sad reality is that the off-season is here as fall winds down. The winter solstice is only a month away, but temperatures are going to start dropping long before that. First-time pool owners might not know what the winterizing process entails – which is why we've assembled a list of suggestions! 
Start Before You Actually "Close" the Pool
About a week before you're ready to close down the pool, you need to prepare. One way to begin the process is to mix in a phosphate remover. By doing this, you can prevent future algae growth. Wait until the water temperature falls below 65 degrees on a consistent basis because if you don't, then you could actually help the algae flourish instead.  
Get Rid of Lingering Debris 
Any lingering debris in the pool structure or on the pool deck could make closing into a headache. That's one of the reasons why brushing and vacuuming are so important. Think about it this way: you probably have a weekly routine for sweeping and mopping the floors inside of your home – well, what about your backyard swimming pool? The idea is much the same, at least in principle. Brush out the sides of the pool structure along with the floor. Skim the surface of the water and empty the skimmer's basket. Don't forget about clearing out the pump basket once the vacuuming task is finished. 
Adjust How Much Water There Is 
Yes, even as freezing temperatures set in, you'll want to leave some water in your backyard swimming pool. For instance, in the area that is most prone to freezing, leave 4-6 inches behind. This guideline applies to both the vinyl-lined skimmer level and the plaster-coated tile line. Meanwhile, you'll need to focus on the non-freezing areas as well; here, be sure to fill up the water to where it is almost overflowing. 
Check on the Pool Chemicals 
The pH levels and overall balance of the chemicals in your backyard swimming pool matter as well. A simple test kit will allow you to determine how acidic or basic the pool water is. Besides the pH level, make sure you figure out the alkalinity as well.  
Perform a Pool Shock Procedure 
Last but not least, do your best to perform a pool shock procedure. When you shock your backyard swimming pool, you can kill any bacteria floating in it. Allow for a few days between when you shock the pool and when you close it. If you can't, then that's okay. Even the night before is acceptable, as long as you understand that it could affect the level of chlorination in the water. 
Questions? Ask Sunrise Premiere Pool Builders LLC
If you still have questions about how to build a brand new swimming pool, Sunrise Premiere Pool Builders LLC is here to help you. We here at Sunrise Premiere Pool Builders LLC can build and install your pool or spa and also provide you with pool chemicals, services, and more. If you have questions, feel free to give us a call at 410-349-3852. To see more from us and for tips and tricks, be sure to follow us on Facebook, Twitter, Pinterest, and LinkedIn.