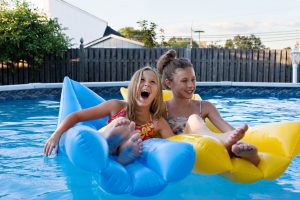 Summer is finally coming to an end. You're probably ready for everything the fall brings with it – soup season, oversized sweaters, warm cups of apple cider, and going pumpkin picking. It's also time to think about closing down your pool for the season. Let's say that your kids are begging you for one last dip before school starts again. Well, here are some ways to ensure that your swimming pool is safe for them to jump into even if you are sitting nearby to supervise them. 
Practice Basic Safety Tips 
Everybody, no matter how old they are, needs to stay safe while they're in the pool. Maybe if everyone knows how to swim, sometimes coordination issues or physical limitations can make it hard to kick and paddle around in the water. That's another reason why observing basic safety tips is so important. 
Adults should watch all children who are swimming. 

Keep first aid kits nearby. 

Ensure that life-preservers, kickboards, ropes, and poles are in easy reach.

Get certified in CPR and encourage all adults in the household to do the same.

Put in a rope to identify the deep end.

Double-check chlorine levels and balance them out if necessary. 
Establish Rules for Poolside Areas 
It's also crucial that you put together a list of rules for behavior around the edge of the water. Most of these rules should be considered common sense, but that doesn't mean they should be tacitly understood. Younger swimmers are impulsive and aren't always as cautious as they should be. 
Keep the pool deck clear of anything that might become a trip hazard.

Institute a policy of no running or pushing on the pool deck.

Keep glass away from the pool, and make sure electrical appliances are nowhere near the water.

Add non-slip coatings to the pool deck if you notice that it tends to get slippery.  
Prevent or Minimize Drowning Hazards
Drowning is more prevalent than you might think. Strive to prevent or minimize the chances of drowning. An easy way to do this is to present as many obstacles and hindrances as possible: 
Install additional locks on all exterior doors attached to your house.

Put up a

pool fence

with self-locking latches. 

Use mesh or motorized covers that are easy to open and close.

Set up door alarms, fence alarms, and pool gate alarms that notify you whenever a door is opened.   
Questions? Ask Sunrise Premiere Pool Builders LLC
If you still have questions about how to build a brand new swimming pool, Sunrise Premiere Pool Builders LLC is here to help you. We here at Sunrise Premiere Pool Builders LLC can build and install your pool or spa and also provide you with pool chemicals, services, and more. If you have questions, feel free to give us a call at 410-349-3852. To see more from us and for tips and tricks, be sure to follow us on Facebook, Twitter, Pinterest, and LinkedIn.