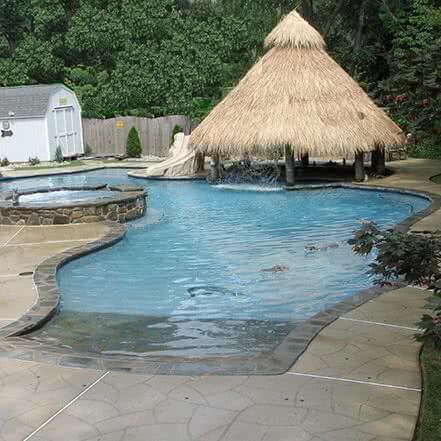 Many factors affect the design of a swimming pool. You have many decisions beyond configuring the poolside area and determining the exact location for the pool itself. For instance, you've also got to consider the amount of water you're going to use. Here's something to ask yourself as you go along: "how deep should my pool depth be?" That matters because the shallow end could be too dangerous to dive into, while such daring activity won't be as risky at the deeper end!  
For Where the Kiddos Play: 3 Feet or Less 
Watching your children frolic in the pool is bound to bring a smile to your face. But for the tots, it's best to keep the water as shallow as possible. That way, they can get used to the feeling of being in the water. Learning to swim can be a frightening experience, so make it as easy as possible. They'll be more comfortable if they can plant their feet on the bottom and keep their head from going underwater. Otherwise, they might panic and will lose interest in swimming out of fear. 
For Swimming a Few Laps: 3.5 Feet or More 
Swimming is a fantastic way to gain some aerobic exercise. But for this to happen under ideal circumstances, you'll need to plan for a deeper pool depth. This way, you'll avoid painful scrapes for toes and knuckles. Lap pools and swim spas are great options for anyone who aspires to be a champion swimmer. Either way, this design choice only pays off if you make sure the pool is longer than it is deep.  
For Playing Some Water-Based Sports: 3.5 to 4 Feet 
Do you love playing water polo? Or maybe some other classic pool-based games? In that case, you'll likely spring for a pool depth suitable for water sports. Volleyball and basketball are difficult to play without a full range of motion. That's why you'll want to even out either end. If one side is deeper than the other, it could give one team the upper hand. 
For Hanging Around and Taking It Easy: Also 3.5 to 4 Feet
At some point, you'll want to take a break. Everyone needs a breather from time to time. So if your intent is to have a pool that everyone can gather around and spend a lazy day, consider making the water waist-high. Think about how tall the swimmers are, too. While you might think this doesn't matter, it does! 
Do You Have More Questions About Swimming Pools? Ask Sunrise Premiere Pool Builders LLC
If you still have questions about how to build a brand new swimming pool, Sunrise Premiere Pool Builders LLC is here to help you. At Sunrise Pools, we can build and install your pool, spa, or hot tub and provide you with pool chemicals, services, and more. If you have questions, feel free to give us a call at 410-349-3852. To see more from us and for tips and tricks, be sure to follow us on Facebook, Twitter, Pinterest, and LinkedIn.