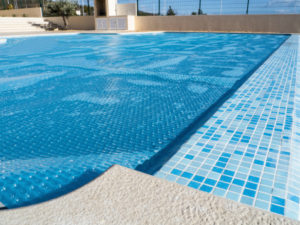 Summer is almost over. It seems like it came and went, didn't it? Labor Day is coming up in a few weeks. That is generally considered to be the "final" day of summer. After that, prime pool season is over. Nothing is stopping you from continuing to use your pool once September arrives. In the meantime, we've collected a list of tips for keeping your new pool in awesome condition! 
Continue Scooping Debris Out 
One of the most important aspects of pool ownership is maintaining it. If the water is dirty, it's not going to be fun to jump into it. Likewise, you never know what bacteria and parasites could be lurking there. Mosquitoes love laying their eggs in exposed pool water. It's just part of what they do. Leaves and twigs attract these pests, and they're one of the most annoying parts of being outside in the summertime. A pool skimmer is incredibly useful, especially the automated ones that do the hard work for you. 
Put A Pool Cover Over It 
Putting a cover over your pool seems so obvious that it might not seem necessary. That said, covers are excellent ways to keep your pool in good condition. For one thing, it stops dirt, oils, and other gunk from falling into the water. Plus, they discourage mosquitoes from turning your pool into their next breeding zone. Older pool covers tend to settle and dip, though. As such, shake the covers from time to time. Even in the fall and winter, you don't want bugs sneaking in there and leaving you a nasty surprise when spring comes back. 
Don't Stop Disinfecting It 
Disinfecting your water (and the structure around it) is crucial. Even when you're getting ready to close down your pool for the season, you cannot ignore this maintenance-related task. Chlorine stops bugs, dirt, and other types of crud from accumulating in your pristine pool. Besides, the pool disinfectant solutions you can buy are formulated to zap mosquito larvae before they burst out of their eggs. Once you've done this, you can rest assured that everyone who enters your pool will be safer and more protected against skin irritation or getting sick. 
Maintain the Nearby Landscape 
Right then, one more thing to think about: landscaping. Trimming your lawn and getting rid of the grass clippings is a great way to get started! Tell those mosquitoes and other pesky insects to bug off!
Do You Have More Questions About Swimming Pools? Ask Sunrise Premiere Pool Builders LLC
If you still have questions about how to build a brand new swimming pool, Sunrise Premiere Pool Builders LLC is here to help you. At Sunrise Pools, we can build and install your pool, spa, or hot tub and provide you with pool chemicals, services, and more. If you have questions, feel free to give us a call at 410-349-3852. To see more from us and for tips and tricks, be sure to follow us on Facebook, Twitter, Pinterest, and LinkedIn.