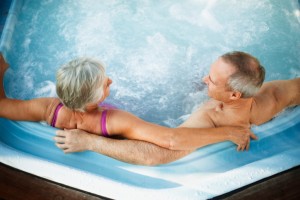 Do you ever come home from a long day of work, longing for a place to relax and enjoy yourself right at home? It is possible when you have a spa in the backyard. If you are thinking a spa is too extreme of a luxury feature to include in your back yard, it is a very affordable home luxury feature, which offers many great benefits to homeowners. Unlike a pool, it will take up very little backyard space and serve as an entertainment and leisure feature. It is also a low maintenance item for relaxing and health.
Many homeowners use a backyard spa as a focal point for social gatherings and overall home exterior design. You may want to use some type of fire feature if you want to use your spa all year round. If you are curious what type of health benefits a spa can offer you, it can help improve your circulation while improving your mental health. It can also make you more social by helping you create a great social gathering space right at your home. You can arrange cookouts and parties around your spa and even create an awesome lounge area and use the spa as a great backdrop. To put it short, having a backyard spa will increase your home value. It is one of those home features which never devalues a home property. In fact, in high-end homes where it's common to have a spa or swimming pool, not having a spa or pool can make it very difficult to sell a home or sell a home while gaining a profit.
A backyard spa will help you improve your home functionality and outdoor living space. There are many options to choose from as more and more homeowners are seeking luxury items to truly enjoy their home and make more use of the home space. You can even make the colors of your spa complement your home design or make it completely stand out on its own. It will truly be a home oasis year-round for you and your family.
If you are ready for the spa of dreams, Sunrise Premier Pool Builders is here to install a spa which fits all your needs. Check out our variety of spas which are competitively priced. We make it easy to place a portable spa anywhere in the home. Moreover, we provide hot maintenance, repairs and supplies so you will never have to worry about spa maintenance. All you have to do is sit back and relax, as you soak in the soothing waters of your backyard space. If you're ready today, let's get started.
Sunrise Premiere Pool Builders LLC not only conducts Maryland spa, hot tub, and pool installations and renovations but also provides pool services, supplies of automatic cleaners, automatic covers & mesh covers, pumps & filters, Chemicals, Special lighting systems, salt generating systems, heaters, and pool toys. We will transform your pool environment into a private oasis.
If you have any questions about pool renovations or need installments, contact Sunrise Premiere Pool Builders LLC. By calling 410-349-3852 or clicking here today!
Check us out on Facebook, Twitter, Google+, Pinterest, and LinkedIn as well!