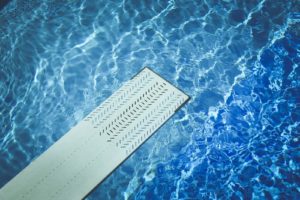 Many pool owners use accessories to liven up their poolside area. We have recently discussed some of the most common and popular accessories. Even so, you might still be confused about other aspects of pool design. Well, if you have pool questions, we are glad to answer them. So if you are interested in designing a diving board pool but unsure of how to do it, then you have come to the right place!
How Deep Does It Need to Be? 
As fun as it is to have a pool right in your backyard, you must always remember that safety is the name of the game. The first item on your list of pool questions should be along the lines of the question posed at the top of this section. The diving well needs to be deep enough to support the diving board. This range is typically between 7.5 to 9 feet. It depends on the way your pool is configured. Neighborhood associations and manufacturer suggestions will also vary, so take those into consideration as well. 
What About Overall Pool Size?
Size matters. As pithy as this sounds, wondering how big your pool is another common item on everyone's lists of pool questions. The pool should be at least 16' by 32', so if you have the space to expand your pool, then you should go ahead and do it. The tradeoff is that when the deeper end gets deeper, the shallow end will be even more shallow. 
What Else Do I Need to Know?
These first two points are extremely important and should not be ignored. Depth and size remain the most significant regulations you must adhere to; that said, there are other factors that should be investigated and accounted for, too. For instance, aboveground pools can't be made deep enough to support a diving board. The shape is also negotiable – decoratively-shaped pools still need to have a dive envelope around it. Lastly, be sure to measure the diving well as carefully as you can. The type of board, how long the board is, and the slope into the pool are other aspects you need to settle. Moving old boards to new pools is also inadvisable.
How Do I Choose a Diving Board?
In the end, you will want to know how to actually choose a diving board. What does your family want or need? How do you want the aesthetics of the new pool design to turn out? And what type of pool do you have? These are all pertinent queries that you'll have to answer. 
Questions? Ask Sunrise Premiere Pool Builders LLC
If you still have questions about how to build a brand new swimming pool, Sunrise Premiere Pool Builders LLC is here to help you. We here at Sunrise Premiere Pool Builders LLC can build and install your pool or spa and also provide you with pool chemicals, services, and more. If you have questions, feel free to give us a call at 410-349-3852. To see more from us and for tips and tricks, be sure to follow us on Facebook, Twitter, Pinterest, and LinkedIn.