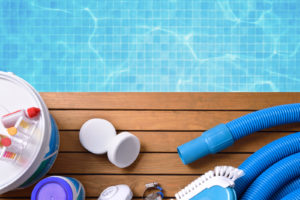 How long have you had your swimming pool? For many first-time pool owners, dealing with proper maintenance is probably one of their least desirable tasks. Even so, pool maintenance is still a critical part of ensuring that your pool remains safe and enjoyable for everyone in the coming years. Do your due diligence to verify the codes relating to fences, gates, and accessibility. Then research the reputations of the pool installation companies you might want to partner with. All of this preparation won't count for much if you don't perform some basic upkeep. 
Addressing Algae Buildup That Causes Greenish Water 
Algae can build up anywhere there is sufficient moisture. Unfortunately, this could affect your pool more heavily than you might expect. Always test the water level whenever you reopen the pool – there might not be enough chlorine. Try the pool-shocking technique because it kills off the algae. Brush off the walls and floor, and then vacuum the algae out before you climb back into the water.
Clearing Up Cloudy-Looking Pool Water 
Cloudy water is another pitfall of poor pool maintenance. This problematic situation is caused by the presence of too much bacteria. Retest the water to evaluate the current chlorine levels and then add more pool chemicals as needed. 
Replacing a Filthy Pool Filter 
In some cases, a dirty pool filter could be the culprit for whatever ails your pool. Treat it the same way you would with an HVAC filter inside your home. At some point, the filter will become clogged and overloaded with debris such as leaves, twigs, and pollen. Degreasing the filter could also make a difference. As such, try using a filter cleaner to get rid of filter-unfriendly substances like body oil and sunscreen.
Rebalancing Improper pH Levels
It's also important to verify the pH levels of the water in your swimming pool. Monitoring the pH scale matters because otherwise, you (or your guests) could suffer from burning eyes, itchy throats, and irritated skin. Aim for a range between 7.2 and 7.6; this is the ideal score. If you don't perform this crucial aspect of pool maintenance, your next pool party may turn out to be a minor fiasco.   
Do You Have More Questions About Swimming Pools? Ask Sunrise Premiere Pool Builders LLC
If you still have questions about how to build a brand new swimming pool, Sunrise Premiere Pool Builders LLC is here to help you. At Sunrise Pools, we can build and install your pool, spa, or hot tub and provide you with pool chemicals, services, and more. If you have questions, feel free to give us a call at 410-349-3852. To see more from us and for tips and tricks, be sure to follow us on Facebook, Twitter, Pinterest, and LinkedIn.