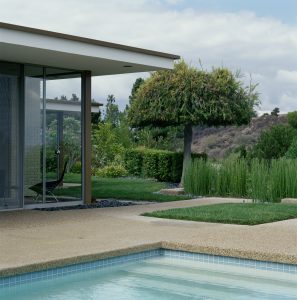 We're only about a month away from the official start of "pool season," and it's time to prepare. Is your swimming pool still closed because you can't bear to be cold when the wind blows? Well, we don't blame you, but it finally seems like higher temperatures are climbing into view. Spend some time by the water relaxing and let your worries wash away!
Water Features 
It might sound paradoxical to put water features around your backyard pool. And we could see where you're coming from when you think that. Waterfalls help tremendously. Jets and bubblers can also make a difference in terms of ambiance. Jets can turn streams of water into fun projectiles as they spray from the deck and into the water. Bubblers produce a soft cascade that gives your pool a vertical aspect that is surprisingly easy on the eye.
Lighting Fixtures 
The days are getting longer. That means you'll be splashing around and having fun deeper and deeper into the evening. Do you want to make the experience even more enjoyable? Set up lighting fixtures that automatically switch on after darkness falls. After a long day of work (or looking after the kids), some peace and quiet will definitely help rejuvenate you. The right light can have a beneficial effect on your mood and energy levels. There's a reason why you typically feel better after a meditation session, after all! Candles can also work, especially if you're trying to keep the electric bill from getting out of hand. 
A Place to Sit 
A comfy place to sit also elevates the experience of soaking up the sun or admiring the night sky. Loungers, couches, overstuffed chairs, and porch swings are viable and affordable options that won't be too jarring. 
Beautiful Landscaping Touches
Gorgeous landscaping features make a world of difference. Prioritize shady spots for when you need to get out of the sun. Likewise, install cool ground covers and small trees that add to the appeal of your poolside. Japanese maples and white flowers are elegant statement pieces.  
Calming Music
Part of improving your overall wellness is to take care of your mind as well as your body. Suppose you're the type of person who needs a pump-up playlist to get you going during your next day at the gym. That won't work here. Finding a sense of stillness by your pool calls for a different type of background music. Try connecting Bluetooth speakers to your hot tub or set up a unique sound system by your pergola, pagoda, or gazebo!
Do You Have More Questions About Swimming Pools? Ask Sunrise Premiere Pool Builders LLC
If you still have questions about how to build a brand new swimming pool, Sunrise Premiere Pool Builders LLC is here to help you. At Sunrise Pools, we can build and install your pool, spa, or hot tub and provide you with pool chemicals, services, and more. If you have questions, feel free to give us a call at 410-349-3852. To see more from us and for tips and tricks, be sure to follow us on Facebook, Twitter, Pinterest, and LinkedIn.