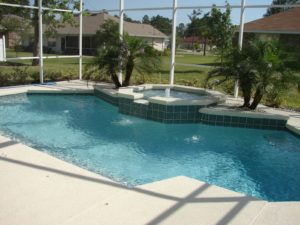 The time has come to think about the condition of your pool deck. The summer pool season is well behind us. Even so, that doesn't mean you need to close down your pool just yet; September still holds some delightfully warm days without being obnoxiously hot. Many pool owners, no matter how long they have had a pool attached to their home, still have questions about pool decks. Here is just a selection of those inquiries. 
Is Sealant Really Necessary? 
Deck sealant is incredibly important. As such, it's not something that you should neglect or ignore. For one thing, the coats of sealant help your deck last longer and withstand natural wear and tear that occur over time. The colors of the deck stay brighter and you won't have to worry about stains ruining the look and feel of your pool deck. 
Which Materials Are the Most Durable? 
It should come as no surprise that pool decks need to be as durable as possible. So when it comes to durability, look into concrete; after all, it will outlast all of the other materials under consideration. Wood, composite, and stone might be more affordable, but that is the tradeoff for the overall lifespan of the deck around your pool. 
How Do I Keep It Clean? 
Keeping the pool clean seems simple enough. All things considered, though, you will want to pay attention to the cleanliness of the pool deck as well. Deck furniture can leave stains behind, as can leaves and dirt. Pressure washing is usually the best way to keep your deck clean. However, you'll need either bleach or baking soda to repel the growth of mold, mildew, and algae. 
Do Pavers Make a Difference? 
You might also be wondering about other ways to make your deck last longer without the sting to your wallet. That's why patio pavers could make a difference – but we advise some caution. Water intrusion can weaken the integrity of the pavers, and they can also suffer from other assorted problems such as mold and ant invasions. 
What About Preserving Aesthetic Appeal?
When it comes to choosing between different types of pool decks, you'll have many options before you. Still, the big question at the end of the day tends to revolve around aesthetics. Move metal furniture off the deck from time to time. Also, use rubber or plastic insulators to stop troublesome stains from forming. Leaf blowers can also help keep your pool deck clean, especially as we move deeper into fall and winter. 
Questions? Ask Sunrise Premiere Pool Builders LLC
If you still have questions about how to build a brand new swimming pool, Sunrise Premiere Pool Builders LLC is here to help you. We here at Sunrise Premiere Pool Builders LLC can build and install your pool or spa and also provide you with pool chemicals, services, and more. If you have questions, feel free to give us a call at 410-349-3852. To see more from us and for tips and tricks, be sure to follow us on Facebook, Twitter, Pinterest, and LinkedIn.