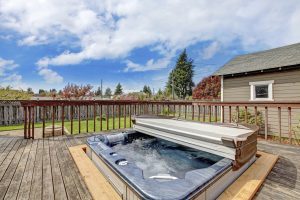 You may not have seen a swim spa before, even though they combine the best of both worlds when it comes to something in between a swimming pool and a hot tub. You still get the ability to exercise in the water, and you get some of that therapeutic relief that you'd expect from a hot tub. Swim spas can also be more affordable than pools and are a great option if you're interested in exercising and relaxing. If you're interested in a swim spa, you must know all the pros, cons, and answers to potential questions you may have before you get one installed.
Where Should I Put a Swim Spa?
Swim spas come in a variety of sizes, between ten and twenty feet. You need to find a space that can withstand the weight of the unit. Once it's filled with water, it gets much heavier.  Set aside at least a few feet of space around the area of the tub. By doing this, you can easily get in and out. 
One of the benefits of installing a swim spa is that it can be installed indoors or outdoors. They're also highly versatile, so you can surround it with decking or put it on a concrete patio. Another option is to recess it, so it looks like an inground swimming pool. 
Why Get One?
Due to their design, swim spas are fantastic for exercising. They are a low-impact environment that lets you begin at your own pace, working up the difficulty and getting a good exercise in whenever you need to, all while enjoying privacy. Whether you have arthritis and are trying to get into exercising, or you're an athlete looking for next-level performance, you can benefit from the installation of a swim spa. Have we mentioned that it's also a great space to kick back and relax?
How Many Other Upgrades Do You Want?
What kind of features do you need? You can get jets that give you a soothing massage, water features such as waterfalls, or even install a music system with hands-free controls. If you do look for therapy jets, just make sure you find an option that suits your specific needs, like foot therapy if you have issues with your feet.
Do You Have More Questions About Swimming Pools? Ask Sunrise Premiere Pool Builders LLC
If you still have questions about how to build a brand new swimming pool, Sunrise Premiere Pool Builders LLC is here to help you. At Sunrise Pools, we can build and install your pool, spa, or hot tub and provide you with pool chemicals, services, and more. If you have questions, feel free to give us a call at 410-349-3852. To see more from us and for tips and tricks, be sure to follow us on Facebook, Twitter, Pinterest, and LinkedIn.