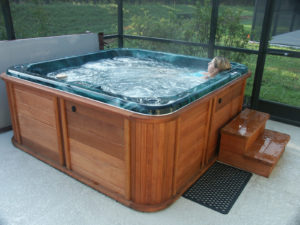 Hot tub plumbing systems are unique. Many pool owners don't know that hot tub plumbing systems are designed differently than other plumbing systems. While some elements may be similar, some key differences and nuances need to be discussed. We present to you some helpful facts to know about when it comes to understanding a hot tub plumbing system. 
The Suction Line And Skimmer
One of the integral components of hot tub plumbing involves the suction line along with the skimmer. When you're examining hot tub plumbing, start with the suction line. after all, this line will be the first component to inspect. It absorbs the water, which is valuable knowledge for any hot tub owner. The skimmer will subsequently begin removing any debris and then send water to the pump itself.
The Pump And Filter
This leads to the importance of the pump and filter. The water collected by the suction line and the skimmer will inevitably go to the pump. Thus, the pump pushes all of the water towards the filter itself. What this means is that water will end up passing through the filter. Any tiny contaminants present in the water itself, like any dirt or dust, will be eliminated.
The Heater And Manifolds
Consequently, this newly filtered water is transferred to the heater. Once it arrives, the heater fulfills its purpose — to create a pleasant and toasty vibe, which is what a hot tub is supposed to do.  After the water is heated to the desired temperature, it will flow through the hot return line and into the manifolds. It is here that the manifolds will accept the water and divert it to several destinations from a single source — namely, the water divider. 
Your Takeaway
Whenever new issues arise, you'll be better equipped to understand the nuances associated with your hot tub's plumbing system. You'll also know how to address any further dilemmas that could confuse you.  
Do You Have More Questions About Swimming Pools? Ask Sunrise Premiere Pool Builders LLC
If you still have questions about how to build a brand new swimming pool, Sunrise Premiere Pool Builders LLC is here to help you. We here at Sunrise Pools can build and install your pool, spa, or hot tub and also provide you with pool chemicals, services, and more. If you have questions, feel free to give us a call at 410-349-3852. To see more from us and for tips and tricks, be sure to follow us on Facebook, Twitter, Pinterest, and LinkedIn.