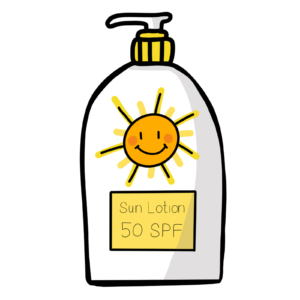 Memorial Day is coming up. What are your plans for it? Well, if you're at a loss for ideas, there's no better way to ring in the summer than to jump in your pool! That said, you're going to want to take some reasonable precautions. For instance, the threat of sunburn is very real. So if you have sensitive skin (or a family history of skin conditions and cancer), you'll definitely want to be as careful as possible when it comes to minimizing the pain and discomfort that comes from when you get sunburnt. 
Look Up the UV Index
First of all, check what the weather is like for the day you want to go outside. Catching some rays is fun until you come home looking like a boiled crab. The National Weather Service and the Environmental Protection Agency both keep track of the UV index. Much like pH, UV light is measured on a scale. The only difference is that the scale in question runs from 1 to 11+. 
Keep Using That Sunscreen 
Don't know which sunscreen to pick? Your best choice is called "broad spectrum" because it can block UVA and UVB rays. Look for SPF 30 or higher; anything below that number will be relatively ineffective. Make sure you apply fresh sunscreen every two hours. Swimming and sweating can cause the sunscreen to wear off, so exercise constant vigilance. 
Learn More About Your Medications 
Medications can have all sorts of unpleasant side effects. That's why they are carefully prescribed and monitored. This approach minimizes the chances of adverse reactions. Read the labels on all your medications to see if they might not react well to direct sunlight exposure.
Double Check Expiration Dates 
While this may seem self-evident, you'd be surprised by how often people continue to use products that are past their prime. Expired sunscreen isn't very protective, so that's a definite cause for concern. Sunscreen products, in particular, aren't meant to last.  At most, you can only expect to get two or three years out of them. Heat exposure begins to diminish their beneficial effects, though. Think about that the next time you want to keep lotions and sprays in a hot car or sitting on your pool towel without any shade.  
Do You Have More Questions About Swimming Pools? Ask Sunrise Premiere Pool Builders LLC
If you still have questions about how to build a brand new swimming pool, Sunrise Premiere Pool Builders LLC is here to help you. At Sunrise Pools, we can build and install your pool, spa, or hot tub and provide you with pool chemicals, services, and more. If you have questions, feel free to give us a call at 410-349-3852. To see more from us and for tips and tricks, be sure to follow us on Facebook, Twitter, Pinterest, and LinkedIn.