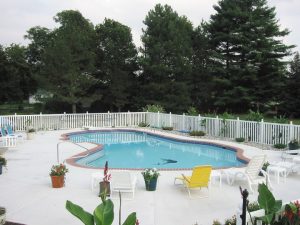 Are you in the market for a new swimming pool? Perhaps you are looking to start by remodeling an older one that you are already have in your yard. Even so, you might not know how to get started. Here are some of our favorite reasons why you should select a concrete swimming pool! 
Incredible Durability 
First of all, concrete swimming pools are incredibly durable. Compared to fiberglass and vinyl, concrete lasts the longest. These pools are also much easier to maintain, which helps improve their overall durability. Plus, you get a much better return on investment (ROI) than if you didn't have one of these pools. Concrete can survive harsh weather conditions better, too, which considering the unpredictability of the weather here in Maryland, that could be a huge relief. 
Wonderful for All Climates
Speaking of weather, concrete swimming pools are wonderful for all climates. Maryland itself has a wide variety of climates, so it comes down to where you live. You'll have to consider what the soil around your home contains – there could be more clay and sand in it than you realize! Although fiberglass and vinyl bring plenty of benefits with them, concrete has proven to be the most popular material for building a new swimming pool.   
Endless Design Choices 
A concrete swimming pool also represents an empty canvas. That means you'll have a wide variety of design choices available to you. For instance, you can decorate the concrete pool with tiles of all shapes and sizes, along with colors and patterns. You can match the tiling to the deck and patio around the pool and create an aesthetically pleasing setup that pairs well with your outdoor kitchen, even if you didn't think it was possible. 
Fits Depth and Space 
How deep can you build a concrete swimming pool? That's probably the biggest question on your mind right now. Inground concrete pools have one more benefit for you to consider: they can be built to any depth and any shape you need them to be. You can also designate shallow and deep ends depending on what your family prefers and what everyone wants before you throw the next awesome pool party later this summer!  
Questions? Ask Sunrise Premiere Pool Builders LLC
If you still have questions about how to build a brand new swimming pool, Sunrise Premiere Pool Builders LLC is here to help you. We here at Sunrise Premiere Pool Builders LLC can build and install your pool or spa and also provide you with pool chemicals, services, and more. If you have questions, feel free to give us a call at 410-349-3852. To see more from us and for tips and tricks, be sure to follow us on Facebook, Twitter, Pinterest, and LinkedIn.