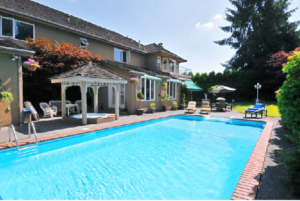 One of the best ways to remake the look of your backyard pool is to consider different features for it. Your backyard oasis doesn't need to be a mundane one, and arguably, it shouldn't be. Follow these simple steps for how to take your swimming pool to the next level! 
Select the Material 
The first step is to choose the material, especially if you plan on remodeling or renovating your pool this spring. The three materials to choose from are vinyl, fiberglass, and gunite. The differences manifest themselves in terms of aesthetics, price point, and quality of the pool. This decision is the first one to tackle since the in-ground pool is the base of everything else that you will invariably add. 
To Infinity and Beyond 
Have you admired the look of an infinity pool? Then the time has come to have one! The infinity pool relies on optical illusions and top-notch landscaping, so take that into consideration as well. It is luxurious and will make your home's backyard feel like it belongs to a five-star resort instead of being in an ordinary neighborhood. 
Add Natural Touches 
Speaking of landscaping, adding natural touches can also help your pool stand the test of time. A timeless effect can take everyone's breath away and last for decades without going out of style. You might not have heard of a natural pool before, but you could remake your current pool into one after doing some more research. A natural pool looks more like a pond thanks to a membrane that keeps out dirt, dust, and stones from the landscaping and hardscaping that you to make your pool more beautiful. Waterfalls and gardens are also commonly-used, which help it look more natural than it did before. Plants around the pool keep it clean, so you won't need to rely on harsh chemicals!
Enhance the Ambiance 
Outdoor lighting does more than make it easier to see as you walk around. If you have an outdoor kitchen or patio bar attached to your swimming pool, then you know how important the lighting is, especially after dark. The daylight hours are starting to get longer, but you can still stay outside after the sun has gone. In fact, once you enhance the ambiance, you will be reluctant to go back inside! Choose fire features, water features, and lights that are mounted inside the water itself. 
Questions? Ask Sunrise Premiere Pool Builders LLC
If you still have questions about how to build a brand new swimming pool, Sunrise Premiere Pool Builders LLC is here to help you. We here at Sunrise Premiere Pool Builders LLC can build and install your pool or spa and also provide you with pool chemicals, services, and more. If you have questions, feel free to give us a call at 410-349-3852. To see more from us and for tips and tricks, be sure to follow us on Facebook, Twitter, Pinterest, and LinkedIn.