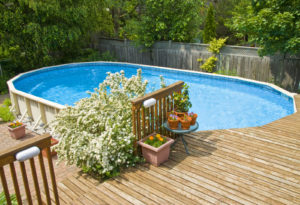 Pool maintenance matters year-round. Why should spring be any different? Part of keeping the pool looking great involves some necessary landscaping work. Likewise, you've got to do what you can to keep the water bright and clean. On top of all time, exercising responsible pool care means your pool will be ready to open once the offseason ends. Then, it's time to party! 
Decreased Anxiety about Costly Repairs 
Once warmer weather returns, you'll want to spend more time outside. Backyard pools are one of the best parts of having an outdoor living space. It's a great way for everyone in your family to exercise. Plus, you'll make some fond memories along the way. Timely pool care will take the stress out of having repairs or replacements done. When you know that the water is always clean, going for a quick swim is as enjoyable as it should be. Repairs and damages are far less expensive to cover, which will also take the sting out of opening your wallet.
Chemical Levels Are At Equilibrium 
Ignoring the chemicals dissolved into your pool water is a bad move. Finding a balance between too much chlorine and not enough is a huge difference-maker. If there's too much chlorine, everybody will suffer skin irritation – namely, redness, persistent rashes, and allergic reactions. On the other hand, without enough chlorine mold, mildew and algae will begin growing out of control. 
All of the Equipment Works 
One of the fundamental elements of good pool care is ensuring that all of the equipment still works. As long as they're in fine working conditions, maintaining a steady supply of clean water shouldn't be a problem. For this to happen, though, the pump and filter need to be functioning at optimal levels. Chairs, lifelines, and buoys should also be clean and sturdy. If you're just now getting your pool open after a long winter, performing equipment checks is vital. That way, you can schedule inspections, repairs, and renovations done by pool contractors before demand starts to peak. 
Getting the Pool Cleaned When Needed
Although this advice sounds like common sense, you'd be surprised how many pool owners neglect it. Too much debris in the water sustains unwanted algae. Algae throw your pool's delicate chemical balance out of whack. These nuisances also cling to the concrete inside and around your pool – presenting another headache for you! 
Do You Have More Questions About Swimming Pools? Ask Sunrise Premiere Pool Builders LLC
If you still have questions about how to build a brand new swimming pool, Sunrise Premiere Pool Builders LLC is here to help you. At Sunrise Pools, we can build and install your pool, spa, or hot tub and provide you with pool chemicals, services, and more. If you have questions, feel free to give us a call at 410-349-3852. To see more from us and for tips and tricks, be sure to follow us on Facebook, Twitter, Pinterest, and LinkedIn.