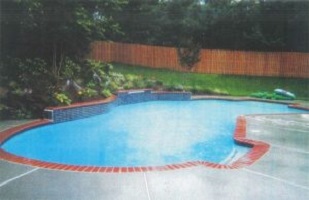 Spring is almost back. After a long, chilly winter, the bitter cold is finally going away. That means it's time for a season of renewal. Families everywhere love spring because of the beautiful and vibrant colors nature shows off. Plus, it's also when you can open up your pool again. Want to accentuate the positives and hide the (hopefully minor) negatives of the area around your backyard swimming pool? We can tell you how: the art of pool landscaping! 
Add Some Water Features
At first, putting water features inside a swimming pool might seem redundant. We promise you: it's not! Waterfalls and fountains can make your pool look even more impressive. It gives your kids something else to do while they're having fun. It's a simple enough project for most reputable pool companies to pull off. Best of all, you can change your water features' size depending on how bountiful your budget is.  
Amp Up the Entertainment Deck 
Another idea actually blurs the line between landscaping and hardscaping. In this case, focus on the pool deck area. Even though it might be a few more months before pool parties become a reality again, that doesn't mean you can't imagine some of the possibilities. Adding comfortable furniture makes watching an outdoor movie at dusk feel magical. TVs, pool tables, and charcoal grills can also get you in the mood for sweet summertime – when the living's easy!
Play Around with Pool Landscaping
Our biggest suggestion is to play around with the pool landscaping. Feel free to experiment! Fresh flowers and bushes can hide the less visually appealing elements of having a backyard pool. Plus, this approach enhances the ambiance. Planting new trees or bushes can also lend a sense of privacy to your backyard oasis – always important when you don't know who else is watching!
Play Up Lights, Sounds, and Colors
Bring on the fun by playing up lights, sounds, and colors. Furniture items can be decorative and comfortable – for instance, lounge chairs, umbrellas, and colorful stones add an air of playfulness to your poolside fun zone. Don't be afraid to install some colorful concrete pool tiles, as well! The proper lighting can make swimming after dark safer – and give you some more mysterious and magical vibes! 
Do You Have More Questions About Swimming Pools? Ask Sunrise Premiere Pool Builders LLC
If you still have questions about how to build a brand new swimming pool, Sunrise Premiere Pool Builders LLC is here to help you. At Sunrise Pools, we can build and install your pool, spa, or hot tub and provide you with pool chemicals, services, and more. If you have questions, feel free to give us a call at 410-349-3852. To see more from us and for tips and tricks, be sure to follow us on Facebook, Twitter, Pinterest, and LinkedIn.