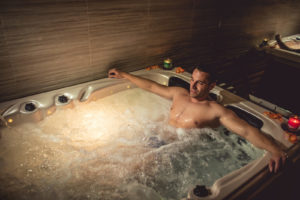 These days, essential oils are gaining popularity. Also known as aromatherapy oils, you might use them in your everyday life to help you feel better. They have numerous benefits – from lifting your mood to soothing headaches and muscle aches. After having a long day, you probably want to sit and soak in the hot tub for a long while. That begs the question: is it safe to use these oils in the tub? Here's the answer! 
What's the Science Behind These Oils?
Let's look at the underlying science at hand first. The aroma molecules move from the olfactory nerves (the smell sensors in your nose) to the amygdala (a crucial part of the brain). This transfer affects your emotional state. There's little hard evidence or consensus on whether or not aromatherapy is proven to help you cope with insomnia, anxiety, depression, and eating disorders. In all honesty, it could just be the placebo effect changing your perceptions. But that's not necessarily such a bad thing!
Can I Use The Aromatherapy Oils in the Tub?
Okay, so here's the answer you've been looking for: you can't use the oils in the hot tub. Or rather, you shouldn't. Like body oils, suntan products, and skin lotions, the oil can decrease water clarity and quality. Your spa tub will eventually show a coat of oily film that is unsettling to look at, even if it isn't harmful. Besides, they can clog the filters, which can cause another set of problems. 
There is a Copycat Counterpart  
There's a substance similar to essential oils that works just as well. This "copycat" is formulated to work in a hot tub and pass through the filtration system without incident. Plus, there won't be any nasty residue left behind. So when you go searching for them, be on the lookout for crystallized powders that resemble bath salts.  Whatever you do, avoid using the essential oils sold in specialty health stores. Also, if you adore your dropper bottles of undiluted oils, leave them alone. While they are perfectly fine for your diffuser or humidifier, they shouldn't join your hot tub party!    
Do You Have More Questions About Swimming Pools? Ask Sunrise Premiere Pool Builders LLC
If you still have questions about how to build a brand new swimming pool, Sunrise Premiere Pool Builders LLC is here to help you. At Sunrise Pools, we can build and install your pool, spa, or hot tub and provide you with pool chemicals, services, and more. If you have questions, feel free to give us a call at 410-349-3852. To see more from us and for tips and tricks, be sure to follow us on Facebook, Twitter, Pinterest, and LinkedIn.