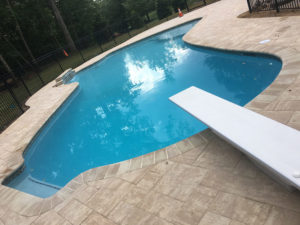 When you see air bubbles in your pool, you shouldn't be concerned about it. Air bubbles happen in all bodies of water – yes, even in a glass. Pour some into a cup and you will probably see some bubbles come up for a minute or two before dissipating. We have prepared a guide for how to deal with any air bubbles that are interrupting your fun. 
Check Water Levels 
Start by checking on the water levels of your pool. One problem is that the skimmers could be blocked for some reason. Also take the time to refill your pool, since the water levels could be too low, and the deep end shouldn't be as shallow as the shallow end. Your pool should be three-quarters full, just about – otherwise, skimmers will keep pulling air into the pool. Do you have a fiberglass pool? Then be careful not to drain it.  
Check on the Strainer Lids 
The third step is to check on the strainer lids. These lids need to be shut. If they aren't, then it creates problems for the O-ring. Start by turning the pump off. After that, take the lid off. Check on the condition of the O-ring hidden underneath the lid; it's important to make sure that the O-ring is still in good condition. You'll have to move it back to where it belongs if it happens to have popped out, which can lead to bubbles forming in your pool.  Once all of that is done, it's time to turn your attention to the lid itself: is there anything stopping it from closing properly? It could be sand, dirt, debris, or other gunk that has gotten into your swimming pool somehow. 
Check the Pump Valve 
The last step is to check on the component known as the pump valve union. Make sure that the O-ring is tight enough because that could lead to the formation of bubbles. Remember all of the steps we listed while double checking on the strainer lids? You should follow them here as well. However, in order to do this you'll have to remove the nut covering the union first.
Questions? Ask Sunrise Premiere Pool Builders LLC
If you still have questions about how to build a brand new swimming pool, Sunrise Premiere Pool Builders LLC is here to help you. We here at Sunrise Premiere Pool Builders LLC can build and install your pool or spa and also provide you with pool chemicals, services, and more. If you have questions, feel free to give us a call at 410-349-3852. To see more from us and for tips and tricks, be sure to follow us on Facebook, Twitter, Pinterest, and LinkedIn.