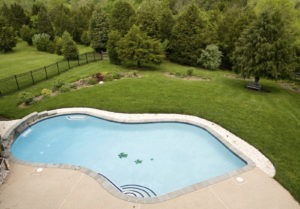 You might be wondering what an endless pool is. After all, since backyard pools contain sharply defined bodies of water, how can one go on forever? If that is the question that has been on your mind for quite some time, we are pleased to inform you that we have some answers for you. 
A Closer Look at Their Unique Design 
The endless pool concept revolves around exercise. Swimming as an activity is already pretty vigorous. Some people find it easier to move around in the water than on land. These pools feature a very large propeller and vents specially designed to fulfill this purpose. Once the system is on, you'll see that a strong current ripples through the pool water. It'll feel like you're stepping into a river, actually! The water continues to flow and circulate back and forth. Thus, you have an exercise perfect for your next aerobic activity. 
How Do You Install Them? 
Now then, with that explanation out of the way, we can move on. So the next big question on our docket regards installation methods. These pools are incredibly versatile, and that could be surprising news. That means that you could add one into the design of a spacious sunroom! The only real requirement is that the floor underneath the pool has to be able to support 200 pounds of water pressure. First floors and basements are ideal locations for indoor exercise pools. However, it is entirely possible to build these pools on second and third-story floors as well. For that to happen, though, you will need the skills of expert pool builders and contractors who know what they are doing. 
Where Should It Go? 
Finding the proper location for any swimming pool is always going to be tricky. When you don't have much space to work with, or a modest budget, that can present another set of challenges. Think about how suitable your garage or basement could be as a landing zone for your endless pool. Still, if you do have more resources on hand, consider a home addition. This new room can host the pool and double as the conventional "pool house," which can be furnished like a small apartment. Ultimately, the outdoor pool might be the best place to put your pool, especially if you like to soak up the sun and cool off on a super hot day!
Do You Have More Questions About Swimming Pools? Ask Sunrise Premiere Pool Builders LLC!
If you still have questions about how to build a brand new swimming pool, Sunrise Premiere Pool Builders LLC is here to help you. At Sunrise Pools, we can build and install your pool, spa, or hot tub and provide you with pool chemicals, services, and more. If you have questions, feel free to give us a call at 410-349-3852. To see more from us and for tips and tricks, be sure to follow us on Facebook, Twitter, Pinterest, and LinkedIn.