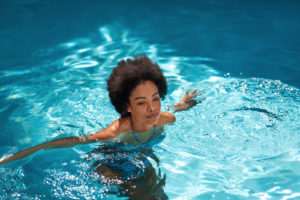 Have you owned a pool before? If so, for how long? Even experienced pool owners can be baffled by how to replace or upgrade the pools in their backyard. While remodeling or renovation projects are fairly straightforward, there are still bound to be some terms that will mystify those who are not members of the pool-building industry. We will do our best to help your leave more about what a plunge pool is supposed to be! 
What Are Plunge Pools?
First of all, let's discuss what plunge pools are. These small pools are also shallower than their larger counterparts. They are less expensive to build and maintain, making them highly attractive to homeowners who want this luxurious feature at a reasonable price. Plus, these pools don't require as much water as their siblings do. But don't worry: plunge pools are fully capable of supporting sophisticated additions such as superior materials, dancing fountains, and even waterfalls. 
They Help Improve Your Health 
Spas and hot tubs help you relax and unwind at the end of a long day. The height of swimming pool season is almost upon us – and even if you aren't going for that "beach bod" this year, you can still benefit from using a plunge pool. That's because they allow you to take advantage of cold-plunge therapy. This treatment technique addresses muscle tightness, inflammation, pain, and overall recovery time. So after your rigorous swim-based workout, you can stay still and cool off. There are a few other interesting upsides to dabbling in cold-plunge therapy. This method can also help boost your energy levels while helping you get more restful sleep. Circulation also improves. However, do keep in mind that science hasn't fully validated these claims just yet. 
These Pools Are Ready to Go 
Plunge pools are often prefabricated ahead of time. That way, they are delivered to you ready to go. Plunge pools also rely on a special water type that sets them apart from other swimming pools; there is a combination of minerals and chlorine. If the chlorine content sounds offputting, don't worry! There is only a little bit of the substance, and unlike larger pools, the chlorine generators are in play. That's what makes plunge pools more similar to saltwater pools than their conventional cousins.   
Do You Have More Questions About Swimming Pools? Ask Sunrise Premiere Pool Builders LLC
If you still have questions about how to build a brand new swimming pool, Sunrise Premiere Pool Builders LLC is here to help you. At Sunrise Pools, we can build and install your pool, spa, or hot tub and provide you with pool chemicals, services, and more. If you have questions, feel free to give us a call at 410-349-3852. To see more from us and for tips and tricks, be sure to follow us on Facebook, Twitter, Pinterest, and LinkedIn.