You're planning on having a pool installed this spring, so you can get the most out of your new pool this summer. You want to make your pool unique, the envy of the block, because there's not much point in owning a pool if it's exactly like the local community pool. The only problem is you don't know the first thing about designing a pool. That's why we're here to help with some stand out pool features that will make your pool the talk of the block.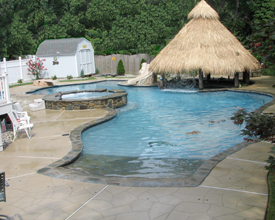 Beach Style Entrance
The beach style pool entry is a simple pool feature that can add a lot of character to your pool. In a beach entry pool, rather then the traditional stairs, you have a graded slope, like a beach, which gradually descends into the pool. As a design feature it works particularly well in pools imitating natural designs, and adds a nice place to lounge or wade. A beach entry is particularly good for young children, seniors, and people with difficulty moving.
Pool Water Features like Waterfalls and Fountains
The water in your pool needs to be re-circulated to keep it fresh and clean, so why not make your system of re-circulation fun while you're at it? A pool water feature used to re-circulate the water can add to the theme of your pool and make it stand out as a fun or relaxing place to be. For a pool classical in style, you may opt to use a Greek or Romanesque statue as a fountain. A modern sculpture with sharp clean lines could act as the fountain for a modern pool of similar design.  A natural pool would be well complemented by a stream and waterfall, providing whimsy, and the relaxing sound of rushing water.
Pool Bar
If you plan on hosting lots of parties or having guests to your pool often, a pool bar is an excellent potential addition to your pool.  With a pool bar you can act as an excellent host and still be close to the fun. Even if you aren't having a party and are enjoying the pool yourself, with a pool bar, you are never far away from refreshment.

Interested in a New Pool or Having a Feature installed in an Old Pool?
Call Sunrise Pool Builders. Regardless of the season we're here with the expertise and experience to install the pool of your dreams quickly and affordably. Use wintertime to plan your Maryland pool with us so that, come summer, your backyard will have been transformed into a tropical oasis. Sunrise Pool Builders also offers the best in pool maintenance services, hot tubs, spas, and pool supplies. If you're in Maryland and looking for anything aquatic, Sunrise Pool Builders has what you need.
If you have any questions about winter pool renovations or need installments, contact Sunrise Premiere Pool Builders LLC. By calling 410-349-3852 or clicking here today!
Check us out on Facebook, Twitter, Google+, Pinterest, and LinkedIn as well!