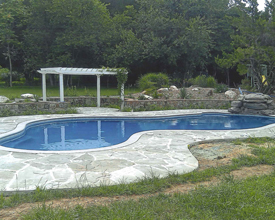 Although the groundhog did tell us that we'd be experiencing 6 more weeks of winter, we can't help but think about enjoying our dream pool in the summer. If you're thinking about installing a pool for the summer, plan for your spring installation now! Your pool design consultants are here to give you the low-down on the top pool trends for 2015. Because you know to come to us for your pool needs, you'll be ahead of the game come springtime. Take a look at these trends to add to your pool design vision this spring:
Water features & Fire features. Whether it's a fountain, a waterfall, a bubbler or a cascade, water features are one of the most popular trends in pool design. Adding LED lights in these features can also jazz up the look of your pool. A poolside fireplace or floating fire pit in the pool can make it looking exciting and high-class.
Glass tile. Instead of the boring concrete instead of your pool, install colorful glass tile! It can add a little shine, design, and durability to the inside of the pool.
Illusion Spas. These are hot tubs connected to the pool that actually look like they rise up out of the pool. The pool design consultant will design and construct the spa within the pool.
Natural swimming pools. These pools are especially popular if you're looking for a pool that looks like it's always been right in your backyard. These pools imitate ponds and blend right into your landscape, using water plants to clean the water instead of harsh chemicals.
Aggregate finishes. These pavement materials can be composed of mixtures of granite, river stones, or glass beads. When finished, they create a lovely surface around your pool that can be more durable than a simple plaster finish.
Let Sunrise Builders Design your Pool
Here at Sunrise Pool Builders, we believe that your pool is more than just a feature of your backyard. We believe that it should be an oasis tailored to you and your lifestyle. For this reason, we'll work with you to design your custom pool. With our experience, technology, and ability, we can build practically anything.
Call your pool design consultants at Sunrise Pool Builders today. Regardless of the season we're here with the expertise and experience to install the pool of your dreams quickly and affordably. Sunrise Pool Builders also offers the best in pool maintenance services, hot tubs, spas, and pool supplies. If you're in Maryland and looking for anything aquatic, Sunrise Pool Builders has what you need.
If you have any questions about winter pool renovations or need installments, contact Sunrise Premiere Pool Builders LLC. By calling 410-349-3852 or clicking here today!
Check us out on Facebook, Twitter, Google+, Pinterest, and LinkedIn as well!