Now don't panic, the public pool isn't going to kill you. However, that doesn't mean that there isn't cause for concern. A recently released study conducted at Perdue University posits that drugs, and chemicals from personal products like hair or bug spray, can find their way into the pool and potentially interact with the chlorine to create new chemicals, some of which could have serious health consequences.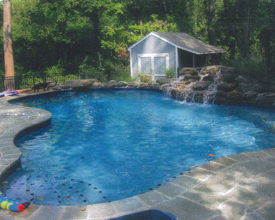 The study, published in the periodical Environmental Science and Technology Letters, states that those enjoy frequent swimming, or have an aquatic exercise regimen, may be at an increased risk for chemical exposure, especially considering how many thousands of chemicals could be in any given public pool.
Ernest R. Blatchley III, a professor in Purdue's Lyles School of Civil Engineering and the Division of Environmental & Ecological Engineering, stated "the whole motivation for examining pharmaceuticals and personal care products is that there is this unknown potential for them to bring about undesired or unexpected effects in an exposed population… There are literally thousands of chemicals from pharmaceuticals and personal care products that could be getting into swimming pool water."
Chlorine is mainly employed to stop the growth of pathogenic microorganisms.  Scientists have known for some time that many biological chemicals have the capability to interact with chlorine and produce theoretically dangerous results. However, this recent study is one of the first to assert that pharmaceuticals and consumer chemicals could pose an additional threat.
The paper indicated that 32 chemicals, including DEET (a highly used ingredient in many insect repellents), certain flame-retardants, and even caffeine could be passing from people into the water and having negative health consequences.
To be clear, this study hasn't confirmed any health consequences, merely suggested that their likelihood, and severity, could be greater than initially thought.  The reality of the situation is that we just don't know. Public pools, which obviously see an infinitely higher amount of traffic are at a much greater risk than personal ones.
Why Keep Going to the Public Pool?
Until science catches up and assess these dangers more thoroughly, it might not be worth taking the risk of swimming in a public pool. This is the perfect time to start building your own, and Sunrise Pools is here to help!
Sunrise Premiere Pool Builders LLC not only conducts Maryland spa, hot tub, and pool installations and renovations but also provides hot tub and pool services, supplies of automatic cleaners, automatic covers & mesh covers, pumps & filters, Chemicals, Special lighting systems, salt generating systems, heaters, and pool toys. We will transform your pool environment into a private oasis.
If you have any questions about building a pool, contact Sunrise Premiere Pool Builders LLC. By calling 410-349-3852 or clicking here today!
Check us out on Facebook, Twitter, Google+, Pinterest, and LinkedIn as well!