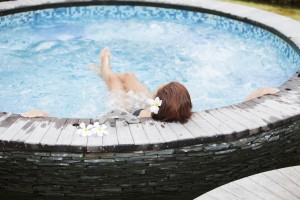 We know it doesn't feel like fall is coming yet. This week has been warmer than it's been for most of the summer, but it's important to remember that cooler days are on the way (we have already had some cooler nights). It's time to start thinking about having a spa installed in your Maryland home. We all know that they're luxurious and great for relaxation, but spas have many benefits besides just those. Having a hard time justifying spending the extra money to have a spa installed? That's probably because you don't know all of the benefits that spas can bring to your life!
How Can a Spa Improve My Life?
Hydrotherapy –This method of therapy is becoming increasingly popular in the medical world, because it takes the stress off of your bones and joints, while increasing blood flow. Even though it's slowly becoming more popular here, hot water has been used as a therapeutic tool for centuries. People used hot springs to relax aching bodies as far back as written history goes. It's a time tested tradition that will help soothe your body after a tough day.
Stress Relief – If all you do is work 40 hours per week, you're going to be stressed out. If you work 40 hours per week, have a home and kids to take care of, you might be ready to tear your hair out some days. Combined with yoga and meditation, the hot water of a personal spa can add an extra layer of stress relief and relaxation to help you unwind. Emotional health is just as important as physical health and shouldn't be neglected.
Enhanced Social Life – Outdoor spaces are a great place to spend time. It can be tough to extend your living space to the outdoors in fall and winter sometimes. All you want to do is stay warm. With a spa, you can stay warm and enjoy some extra time outdoors with family and friends. You still need fresh air and vitamin D when the air cools off. Don't sacrifice your health or your social life just because it starts to get cool outside.
Maryland Custom Spas
We carry a wide variety of spas that are competitively priced. With more than 60 years of experience in the pool and spa field, Sunrise is the perfect partner for your spa installation. Our mechanics and personnel are fully trained, and receive ongoing education from our suppliers and spa partners. We carry a full line of Riviera Spas. To have your new Maryland spa installed, feel free to call us at 410.349.3852 or visit our website.
Be sure to follow us on Facebook, Twitter, and LinkedIn!
Sources: Healthy Living, Bullfrog Spas