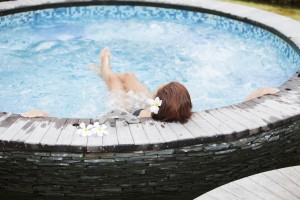 The kids have gone back to school, the leaves are falling, and the cold weather is quickly approaching; its officially fall. Although the pools have closed, that doesn't mean you can't still enjoy some time outside in your spa. With warm, therapeutic water, it's the perfect weather to do so. A clear, chilly night calls for some hot apple cider and a dip in your outdoor spa or hot tub. Don't have one? It's time to install one! That way, you can still enjoy the relaxing sensation of the water in cooler weather. Take a look at the benefits of installing an outdoor spa this season:
Relaxation. Just picture it: silence, warm water, a hot cup of tea, and a good book. Now that the kids are back in school, you may have found that you have more time to relax. No more chasing the kids around the pool or keeping them entertained. Take advantage of a few more minutes in your day to relax in a spa.
Therapy. With the cooler weather arriving, you may have begun to feel joint pain or achiness. Water in itself is very therapeutic, and with the added warmth and massaging jets, a hot tub can be even more therapeutic towards your body. Not only can it be therapeutic towards your body, but also towards your mind. Relaxing in a spa can give you time to clear your mind, and find contentment. Take away your pain this fall with an outdoor spa.
Easy installation and upkeep. If you don't want to have to wait to be able to use your outdoor spa, no worries. The hot tub can be set up in just a couple of hours! All it requires is a large, even surface and a power source. Because these hot tubs are not custom-made, it's easy to find new covers and accessories when needed. Also, if you decide to move, you can easily drain the spa and have it moved to your new home.
Can your picture yourself in your new spa yet? Don't wait any longer to install! Call Sunrise Premiere Pool Builders. We carry a wide variety of spas that are competitively priced. With more than 60 years of experience in the pool and spa field, Sunrise is the perfect partner for your spa installation and maintenance. Our mechanics and personnel are fully trained, and receive ongoing education from our suppliers and spa partners. We carry a full line of Riviera Spas. To have your new Maryland spa installed, feel free to call us at 410.349.3852 or visit our website.
Be sure to follow us on Facebook, Twitter, and LinkedIn!
Source:
http://www.bhg.com/home-improvement/outdoor/pools-spas/planning-for-a-spa/
http://poolandpatio.about.com/od/planningyourpool/bb/reasonspool.htm