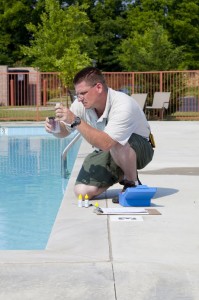 Pool ownership in Maryland comes with a host of benefits. It increases property value, curb appeal, provides a great way to stay fit, and of course, a nice way to relax and cool off during the summer weather. However, a quality swimming pool does have a lot of moving parts and odds are you'll have to deal with some kind of pool repair down the line. While DIY pool repair is never recommended, knowing a bit about these repairs can help you know when it's time to call your Maryland pool repair service.
Cracks in Pool Walls
It's not unusual for cracks to occur in the concrete that forms the walls of an in-ground swimming pool. This is largely due to the somewhat erratic weather conditions we so often have here in Maryland. Sudden temperature changes, combined with the inherent moisture of a pool, can cause a small crack to quickly fissure into a large one. If you notice cracks forming, a pool repair service will need to be called in for resurfacing before the problem gets out of hand.
Pump Motor Problems
The most common issue Maryland pool owners face, pump problems are so common because of the complexity and numerousness of the moving parts within these devices. Pump motor failure will cause the quality of your pool's water to degrade swiftly, the temperature to drop. Sitting water will also attract egg-laying insects like mosquitos. If your pump fails, call a pool repair service fast.
Pool Filter Problems
Another very common pool problem in Maryland is the failure of a badly treated pool filter. If not changed regularly, a pool filter will malfunction and require a replacement cartridge and thorough cleaning, otherwise your pool's water will swiftly accumulate debris and bacteria. If you start to notice an increase in visible debris without an apparent explanation, check your pool filter and call a Maryland pool repair service.
Need A Reliable Maryland Pool Repair Service?
Call Sunrise Premiere Pool Builders today! In addition to quality pool and spa construction, Sunrise Premiere Pool Builders offers affordable, fast, and thorough pool repair for any problem your Maryland pool or spa could face. Our friendly pool repair experts will get the job done quickly and at a price you can afford.
Sunrise Premiere Pool Builders also provides supplies of automatic cleaners, automatic covers & mesh covers, pumps & filters, chemicals, special lighting systems, salt generating systems, heaters, and pool toys. We will transform your pool environment into a private oasis.
If you have any questions about pool renovations or need installments, contact Sunrise Premiere Pool Builders through our website, by calling 410-349-3852, or simply clicking here today!
Check us out on Facebook, Twitter, LinkedIn, Pinterest, and Google+ as well!