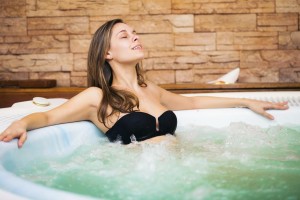 Spas are undeniably one of the best ways to enjoy water, especially when the weather starts to cool off. We've still got a little way to go before fall is upon us, but spas can be really nice on cool summer evenings as well. One thing that is important to remember when you purchase a spa is that there are a lot of safety and maintenance requirements that come with it. You'll get the best results from something that you're operating safely and maintaining properly – it works that way with just about anything and spas are no exception. Let's start off with some safety tips for your Maryland spa.
Spa Safety
Drugs and Alcohol – Because of the heat, spas have a tendency to increase your heart rate, which makes some drugs and alcohol more potent. This can be very dangerous, especially if you're in the spa for an extended period of time. Talk to your doctor and find out if a spa is safe for you if you're on any type of medication.
Time Spent in the Spa – Spending too much time in a spa can be dangerous. You should never spend more than 15 minutes at a clip in your spa. It's recommended that you get out and cool off every quarter of an hour to maintain a good body temperature. You also shouldn't keep your spa any higher than 102 degrees Fahrenheit.
Kids in the Spa – This one is up to parental discretion, but the best way to keep kids safe in a spa is to introduce them slowly and avoid letting them in the spa for more than 10 minutes at a time. As with any body of water, never leave a child unattended near your pool or spa. Unattended children have a higher risk of drowning.
Spa Maintenance
Drain and Scrub – To keep your spa germ free, you should drain it at least once per month (unless it's on the same filtration system as your pool) and scrub it down with a bleach solution. Make sure that you also clean your filter at this time. Doing both will ensure that your spa is consistently clean.
Check chlorine levels – Do this regularly. Talk to your spa and pool experts to find out what a good level of disinfectant (such as chlorine or bromine) is to have in your particular spa. Make sure you keep up with the disinfectant levels to avoid letting your spa become a breeding ground for germs.
Keeping your spa safe and clean is important for you to enjoy your spa experience. Don't have time to take care of the maintenance or don't have a spa yet? Don't worry! That's what we're here for. If you need assistance with your Baltimore spa, or are looking to build a custom pool or spa, feel free to call us at 410.349.3852 or visit our website.
Be sure to follow us on Facebook, Twitter, and LinkedIn!
Sources: Spa Depot