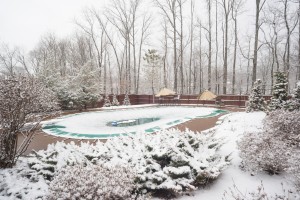 Life with a pool in areas that see a fair amount of snow can be tough. Having to winterize each year can seem like a bit of a chore, but it's all worth it when summer comes around again. However, many homeowners ignore the important task of clearing snow from their pool cover. Sunrise Pool Builders, your Maryland pool construction and maintenance company, is here with tips on removing snow from your pool cover and why it matters.
What's So Important About Clearing My Pool Cover?
If you have an above-ground swimming pool in Maryland, snow can weigh down your pool cover, pulling the walls it's attached to towards the center of your pool, damaging the rails, walls, or even causing your pool to collapse in on itself. While an in-ground swimming pool doesn't run the risk of collapse, snow can weigh down your pool cover to the point of permanently damaging or ruining it, possibly even ripping out the anchoring mechanism and your pool's coping.
How To Remove Snow From A Pool Cover
Now that you know why removing snow from a pool cover is so important, here a few quick tips on taking care of the matter.
Take a long-handled broom with a wide base and use it to push the snow gently, but forcefully off the cover.
Under no circumstances should you use a shovel or any other implement with sharp edges. This can cause permanent damage to your pool cover and allow dirty water to leak through.
Make sure to continually remove snow as it piles up to keep the weight from becoming too great.
If you have a thin layer of snow on top of your pool cover you may use a leaf blower to get rid of it.
Need Help Protecting Your Pool?
Call Sunrise Pool Builders. As one of Maryland's most accomplished and successful pool building and maintenance companies, we have the knowledge and tools necessary to make sure your pool makes it through every season in pristine condition. Our professional pool experts can help replace and repair damaged pool covers affordably, as well as winterize your pool or consult with you about beginning construction on an entirely new one.
If you have any questions about pool renovations or need installments, contact Sunrise Premiere Pool Builders LLC. By calling 410-349-3852 or clicking here today!
Check us out on Facebook, Twitter, Google+, Pinterest, and LinkedIn as well!