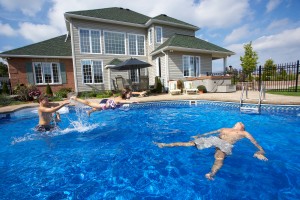 Keeping your pool safe and well renovated is an important facet of having a pool. If you make a point to keep your pool clean and perform repairs when they come up, you'll keep your pool safer and make it last longer. Increasing the life of your pool will save you money over time and can even increase the value of your home. Renovating your pool will do you two different favors: give your whole landscaping a facelift AND make your pool safer to swim in, depending on what renovations you're doing.
How Do You Know It's Time to Renovate?
There are actually a few tip offs that suggest it's time to make some renovations. You just have to keep your eyes open for them and remember to mark down whenever you do repairs or renovations.
If you're buying a pool with an older home, you need to be aware of the safety features. Drain covers need to work properly and you need to have covers anywhere that there's suction to help keep children and pets safe. If it's clear that nothing has been replaced in a while or if it isn't operating properly, it's a good time to consider a full pool renovation. You can modernize your equipment at this time, too.
It's been 15 years since you've replaced the liner. Liners (vinyl and otherwise) need to be replaced every 10-15 years because they can deteriorate and become discolored. Vinyl is one of the strongest materials and one of the best for pool liners, but even it has its limits. If you see holes or leaks in your liner, it's a good indication that it's time to go ahead and replace it. If you allow your liner to become too damaged, it can also cause damage to the structure of your pool.
You've had your pool for more than 20 years. Getting your pool entirely overhauled and renovated is recommended so that you can fix any cracks in a concrete bottom and make sure that your pool is up to safety standards. You also want your pool to be aesthetically pleasing. No matter how well you take care of your pool in that time period, you're still probably going to find that the pool isn't as nice as you'd like it to be anymore after 15-20 years.
Anne Arundel County Pool Renovations
You may want to consider closing your pool a little early this year and taking care of those important renovations that you've been putting off during the hot summer months. Your Anne Arundel County pool renovations are important for the safety of you, your family, and your guests. Plus, who doesn't want a great looking pool? If you need assistance with your Baltimore pool renovations, or are looking to build a custom pool or spa, feel free to call us at 410.349.3852 or visit our website.
Be sure to follow us on Facebook, Twitter, and LinkedIn!
Source: BB Pool & Spa