Owning a personal hot tub or spa can be a fantastic luxury, but like any piece of household equipment, it's important to keep it properly maintained. While the best, and easiest option is usually to call a professional, here are some steps you can take to keep your spa running in tip-top shape.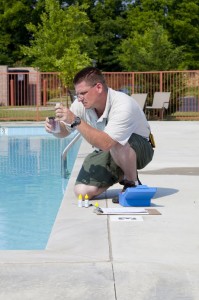 Keep It Covered
Since your hot tub will probably be exposed to the outdoors, it's an important part of spa maintenance to keep it covered with a vinyl protector when not in use. Make sure to clean the protector regularly but always do so away from the hot tub itself. You don't want any of the cleaning chemicals mixing with the water in your spa.
Ensure Water Purity
Another essential element of proper spa maintenance is keeping your water clean. While you can be certain that any spa purchased from Sunrise Pool Builders will have a top-of-the line water purification system, you will still have to regularly add chemicals like chlorine, bromine, baquanine or certain mineral based purifiers to eliminate any standing bacteria.
Water care should only take a few minutes per week and the exact chemical mixture should come in your hot tub owner's manual. It's also important to clean your filter regularly to keep your spa running strong, however, after about 3 years you will almost certainly need a replacement.
Check pH
It's important keep the pH in your spa well balanced to avoid skin and eye irritation while using your hot tub. Use your spa's pH testing kit every couple of days and every time you add chemicals to be safe. The pH should be in the range of 7.2-7.8 with 7.4 considered to be ideal as it is the pH of the human eye.
Call Professionals
If you have any questions about owning a spa, need help with maintenance, or are looking to add or remodel a pool or spa, call Sunrise Premiere Pool Builders. We carry a wide variety of spas that are competitively priced. With more than 60 years of experience in the pool and spa field, Sunrise is the perfect partner for your spa installation and maintenance. Our mechanics and personnel are fully trained, and receive ongoing education from our suppliers and spa partners. We carry a full line of Riviera Spas. To have your new Maryland spa installed, feel free to call us at 410.349.3852 or visit our website.
Be sure to follow us on Facebook, Twitter, and LinkedIn!
Source: