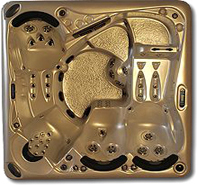 When you're ready to have a new spa installed in your Baltimore home, you want to make sure that you choose the right spa for your home. It needs to fit your lifestyle, be the right side for the amount of people that you want to entertain, and above all, be comfortable and therapeutic! You may think that finding the perfect spa will be a challenge, but Riviera Spas takes the complication out of it. One of the reasons that we sell Riviera Spas is because they present our customers with all of the benefits that we believe they deserve in a home spa. Check out some of our favorite perks of owning a Riviera Spa!
Features of Riviera Spas
Therapeutic – There's something about hot water on a cool fall day that makes all of your troubles melt away. Riviera Spas not only offers therapy through hot water, but through the features of their spas as well. Each spa is designed to be comfortable and ergonomic, so you never have to strain to get comfortable. You can also get up to 108 jets in the spa, positioned however you need them most!
Aesthetic – We don't believe that you should have to choose function over fashion, and neither do the people at Riviera Spas. Each spa comes standard with LED lighting to set the mood and give you a unique experience. Choose from an array of colors each time you use your space; it's so simple that you can make the change with the touch of a button. Additionally, the spas come in 7 different colors, so you're guaranteed to get exactly what you want.
Variety – While all of the spas from Riviera will get the job done, you get to choose the one that will do the job the best for you. At Sunrise Pools, we carry 6 different styles of Riviera Spas. You'll be able to choose the color as well as the design of your home spa. Each spa seats at least four people and comes equipped with multiple jets for a relaxing experience!
Riviera Spas in Maryland
We carry a wide variety of spas that are competitively priced. With more than 60 years of experience in the pool and spa field, Sunrise is the perfect partner for your spa installation. Our mechanics and personnel are fully trained, and receive ongoing education from our suppliers and spa partners. We carry a full line of Riviera Spas. To have your new Maryland spa installed, feel free to call us at 410.349.3852 or visit our website.
Be sure to follow us on Facebook, Twitter, and LinkedIn!
Source: Riviera Hot Tubs