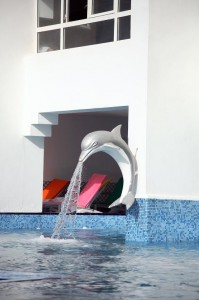 What is the first benefit of adding a fountain or water feature to your pool? It's pretty! That's definitely an obvious advantage of adding something a little different to your Maryland pool, but it's far from being the only advantage. Fountains and waterfalls offer you a way to customize your pool and make it entirely your own. There are hundreds of options for pool fountains and water features – you're limited only by your imagination. Whether you like tiered fountains, wall "waterfall" fountains, pedestal fountains, or a full on waterfall, you can reap the benefits of adding a water feature to your Maryland pool!
Benefits of Water Features
Use as a sound barrier – If your home backs up to your neighbor's home or you live in a busy subdivision, you know how loud and obnoxious it can get. Adding a pool fountain in allows you to curb the noise and listen to something different instead. It'll also help block the noise coming from your pool to give you a little more privacy. Install a waterfall for more of a sound barrier or just go for a small fountain to get a smaller effect.
Enjoy the stress relief – Even if you're not using your fountain as an integral part of your pool, you can still glean the stress relief that comes with running water. Studies have shown that people who have fountains in their homes are more relaxed. What's better than laying by the pool, cold drink in hand, listening to the sounds of nature? You can even turn the flow up high enough to block out the neighbor's dog and enjoy a peaceful afternoon by the pool.
Keep the water moving – Improving the circulation of your pool will help you for a few different reasons. First, it keeps the chemicals moving. If you don't have a chance to swim every day, your pool may not get the circulation that it needs. A pool fountain will get the water moving. It'll also help get debris to the filter, which will help to keep your clean pool. Your pool is also less likely to develop algae problems if the water is continuously moving.
Pool Water Feature and Fountain Installation
Ready to install your new water feature? Then you need to contact a water feature and fountain expert.  No matter what you have in mind, we can make it happen. Each Sunrise pool is more than just a backyard addition; it is a reflection of your lifestyle custom tailored to compliment your home's architecture. If you need assistance with your Baltimore pool, or are looking to build a custom pool or spa, feel free to call us at 410.349.3852 or visit our website.
Source: In The Swim