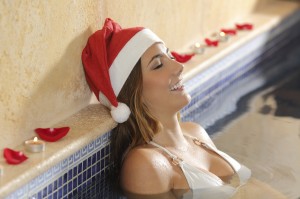 The winter is the best time of year to use your spa. Nothing beats the feeling of whimsy and delight you get when sitting neck deep in rushing hot water while snow falls all around you.  However, winter is also the time of year when your spa is most prone to damage, it's important to take special care, and use caution if you're planning on keeping your spa in use during the winter months.
Refresh yourself with the Instructions
The first thing you should do when getting your spa ready for winter use is to make sure you brush up on the operating manual. Make sure you refresh yourself on its everyday use, and check to see if there are any specific instructions on how to operate it during the winter. Check to see if there's a freeze protection setting, and if there isn't make sure you learn how to use the timer.
Operating the spa
Once you've familiarized yourself with the settings and operation of your spa make sure you set the freeze protection, this needs to be going as long as you keep the spa filled. If you're in a particularly cold climate, or there's a particularly strong cold front coming through, raise the minimum temperature on the freeze protection. If your spa does not have freeze protection, program the timer switch to activate a heating cycle frequently. Running the heating cycle fifteen minutes for every hour should work in the Mid-Atlantic region. Make sure the jets are turned off when not in the tub, as they will dramatically increase the energy cost to keep the water warm. If you use your spa daily you can save energy, and money, by keeping the spa at a constant temperature, as repeated cooling and heating takes more power.
When not using the spa it should always be firmly covered. If your cover is waterlogged, or otherwise damage, it might be time to think about replacing it. A damaged cover loses its ability to effectively insulate, and if it doesn't effectively insulate anymore, it will cost you more to keep your spa warm.  You should also remember to frequently check the temperature and water level of your spa when you're not using it.  Cold temperatures could mean your heater's aren't functioning properly, and if the water gets too low the pumps won't run and the heater will stop, freezing, and breaking your spa.
In the case of a power outage, it's important to carefully consider how cold it is and how long it normally takes for power to be restored. If it's cold, and there's a heavy snow with the roads blocked, you should drain the spa.  If the streets are clear and you frequently get power back quickly, you can probably safely leave the spa filled; however, it's always a good idea to keep an eye on the situation. Better safe then sorry.
Want to Experience the Winter Wonder of a Spa?
If you're interested in buying a hot tub or spa to wait out the winter in comfort and warmth, and want one at an affordable price, then come see what Sunrise Premiere Pool Builders has to offer!
Sunrise Premiere Pool Builders LLC not only conducts Maryland spa, hot tub, and pool installations and renovations but also provides pool services, supplies of automatic cleaners, automatic covers & mesh covers, pumps & filters, Chemicals, Special lighting systems, salt generating systems, heaters, and pool toys. We will transform your pool environment into a private oasis.
If you have any questions about pool renovations or need installments, contact Sunrise Premiere Pool Builders LLC. By calling 410-349-3852 or clicking here today!
Check us out on Facebook, Twitter, Google+, Pinterest, and LinkedIn as well!