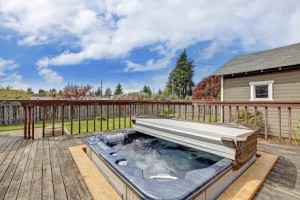 Ahhh, it's finally Friday night. Time to kick back in the spa, crack open that book you've been looking forward to, and ridding yourself of the stress of the workweek. You take the cover off of your hot tub and get ready to lower yourself into the warm water. But wait – what's that smell coming from your spa? You do some mental math in your head and realize that it's been a little over 6 months since the last time you drained and refilled the water. Well, there go your Friday night plans! How can you avoid this scenario? Know when it's time to drain and refill the spa, of course!
Does My Spa Need to be Drained?
Does it smell a little off? This is your first tip off that your spa should be drained and refilled. You never want the water to smell weird or funny. It can be a sign of a buildup of bacteria or multiple other problems. Make sure that you entirely drain the tub, clean it, and refill it to make sure that your spa is safe to use again.
Is there any foam or gunk buildup? Antifoam will usually do the trick to keep your spa clean and foam free, but sometimes it's just not enough. If you notice that your antifoam isn't doing the job anymore, you need to go ahead and drain your spa. Keep an eye out for any water discoloration as well, as this could be a sign that your water is too old.
Keep an eye on the date – Most experts recommend that you change the water in your spa every 6 months or so. If multiple people are using your spa every day, though, you may want to drain and refill it more often. Additionally, if your spa has been empty for any length of time, you should fill it, drain it, and fill it again to clean the pipes out.
Hire a professional maintenance team – Draining and refilling your spa on your own can be a huge hassle. It's best to have someone who does it for a living come in and take care of it. That way you can be assured that the water is properly treated once the spa is filled up again. Chemical safety should be one of your top priorities when it comes to your home spa.
Professional Spa Maintenance
If you have any questions about owning a spa, need help with maintenance, or are looking to add or remodel a pool or spa, call Sunrise Premiere Pool Builders. We carry a wide variety of spas that are competitively priced. With more than 60 years of experience in the pool and spa field, Sunrise is the perfect partner for your spa installation and maintenance. Our mechanics and personnel are fully trained, and receive ongoing education from our suppliers and spa partners. We carry a full line of Riviera Spas. To have your new Maryland spa installed, feel free to call us at 410.349.3852 or visit our website.
Be sure to follow us on Facebook, Twitter, and LinkedIn!
Source: Jacuzzi