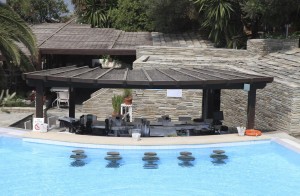 When you think of the ultimate in luxury and relaxation, it usually involves being at a tropical resort where people wait on you hand and foot with tropical drinks and delicious food. Who could blame you? Life can get pretty stressful when you consider 40 hour work weeks and trying to keep all of your ducks in a row when you've got kids or family that's relying on you. Why not bring the resort feeling home? You've already decided to build an in-ground pool in your backyard, which is step one, but what about the bar? You know you want a mini-bar in your backyard anyway. What better way to get it than to incorporate it into your pool?
At Sunrise Premier Pool Builders, we specialize in in-ground pool design and pool bars. They're a great addition to your outdoor pool, especially if you incorporate them well into your existing hardscaping. So why should you install a pool bar?
Social – Pool bars are a great conversation starter when you've got friends over. Company will love the resort feel and that they can swim up, make a drink, and sit at a bar while submerged in water. It's a great feeling during the hot summer months in Maryland. You can stock your bar with anything you want from alcohol to water. You can also add snacks!
Good for kids and adults – If your kids spend a lot of time in the pool, they may be pretty bad about getting out to actually drink water. Did you know that you still sweat in the pool? You just may not notice it because of the water around you. It's imperative to remember to drink water while swimming. Kids and adults will both benefit from having fresh water in the pool.
Save space – If you're already planning on putting both a pool and a mini bar in, incorporating the bar into your pool area will help you save on important deck space. It's easy to run out of room for hardscaping, especially if you don't have a huge yard. A pool bar will save you some space and add some extra luxury to your backyard.
Designing your pool should be a fun endeavor! Adding a pool bar will give your design a little extra unique flair. Sunrise Premiere Pool Builders wants to help you make this summer a fun one. We are a full service pool company, specializing in building, repairs, maintenance, pool equipment and more. If you need assistance with your Baltimore pool, or are looking to build a custom pool, feel free to call us at 410.349.3852 or visit our website.
Be sure to follow us on Facebook, Twitter, and LinkedIn!
Source: Landscaping Network